Afghan 'Bruce Lee' spins the web with his kung fu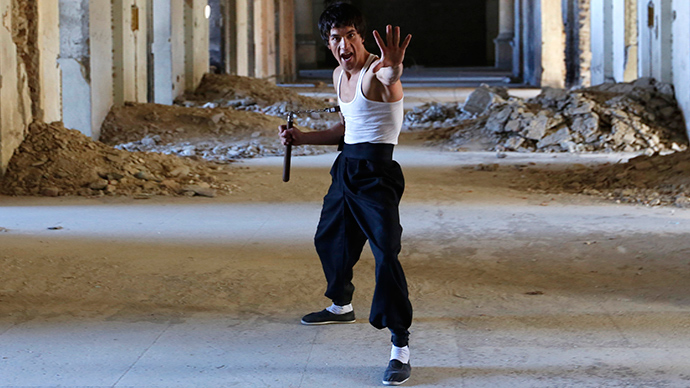 Meet Afghanistan's Bruce Lee look-alike, Abbas Alizada! The 20-year-old from Kabul, nicknamed 'Bruce Hazara,' not only bears a striking physical resemblance to the famous kung fu legend, but also manages to pull off his martial arts moves.
The young Afghan has kicked his way through the internet, gaining wide popularity through videos and photos showcasing his talents.
Alizada's uncanny resemblance to the action film legend – the bowl-like haircut, physical build, and even similar clothes – made him a web hit this week.
"I want to be a champion in my country and a Hollywood star," Alizada told Reuters during an interview at Kabul's Darul Aman Palace.
#brucehazara#afghan#afghanbrucelee#hazara#AbbasAlizadapic.twitter.com/xbkkPPk57Y

— Bruce Hazara (@brucehazara) December 11, 2014
The promising martial artist comes from a poor family of 10 children. His family wasn't able to provide his classes at a Chinese mixed martial arts academy, but the trainer saw Alizada's diligence and agreed to train him for free.
— Bruce Hazara (@brucehazara) December 11, 2014
The young man trains there twice a week, perfecting nunchaku techniques and sparring with partners.
Alizada has over 50,000 followers on Twitter, where he posts pictures of himself striking Lee's poses in front of Afghan landscapes.
#bruce#brucelee#aghanbrucelee#brucehazara#abbasalizadapic.twitter.com/u6EceTEBvT

— Bruce Hazara (@brucehazara) December 11, 2014
Afghanistan is torn by internal conflict between the country's NATO-supported army and Taliban insurgents.

"The destruction here makes me sad, but it also inspires me," said Alizada, adding that "the only news that comes from Afghanistan is about war...I am happy that my story is a positive one."
#brucehazara#afghanbrucelee#brucelee#abbasAlizadapic.twitter.com/qZ0rSnhfZR

— Bruce Hazara (@brucehazara) December 10, 2014