$1,000 meal for hungry cat: Russian sea food store suffers feline heist (VIDEO)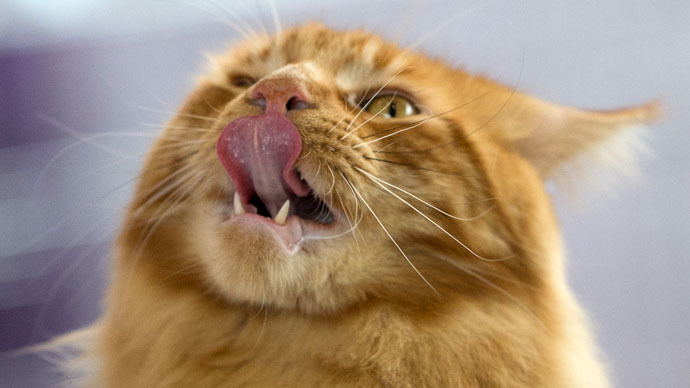 During the night, a ginger cat sneaked into a sea food store at Vladivostok airport and treated itself to fish from the deli counter. The animal's feast, which included squid and flatfish, was worth 60,000 rubles - some $1,100.
UPDATE:Big break: Russians search for cat who sneaked $1,000 feast at seafood shop
The feline burglar also went for the dried octopus - he torn up the packaging, but couldn't quite get to the food inside. The shop owners still had to count the costs because the sealing on the packages was broken.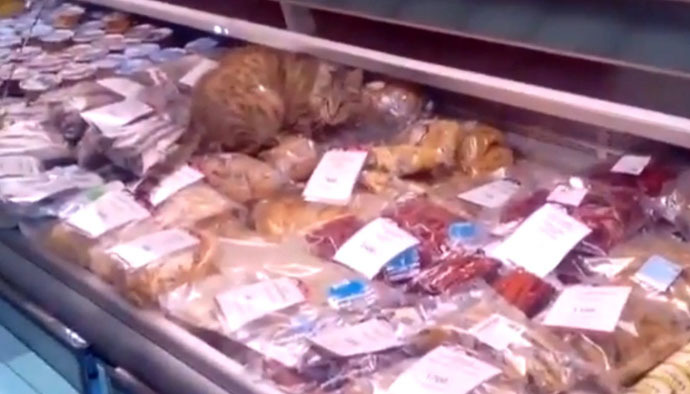 "The cat made its way inside the counter, and ate and nibbled the goods, scratched and wrecked the packaging around the squid and dried fish," a shop assistant told Ria Novosti agency.
The shop was forced to write off the entire fish counter the cat had laid its paws on, to comply with sanitary rules. The store at Vladivostok international airport in Russia's Far East was thoroughly disinfected, its owners promised the local PrimaMedia news.
The cat's Friday feast was spotted and filmed by airport staff, who were amused by the gluttonous animal for some time before calling the shop owners. It's still unknown how the animal sneaked his way into fishy heaven.
While shop assistants say the animal is homeless and lives near the airport, sometimes coming into the terminal for warmth and to be fed, the airport says the presence of any unsupervised animals on the premises is strictly forbidden due to security regulations.
A special order has been issued, and a company has been appointed to keep stray animals out, the airport's press service said, adding that the cat might have been lost by one of the passengers. The blame lies completely with the shop, the airport said.
You can share this story on social media: