Twitter-storm over opera diva Netrebko's Donetsk donation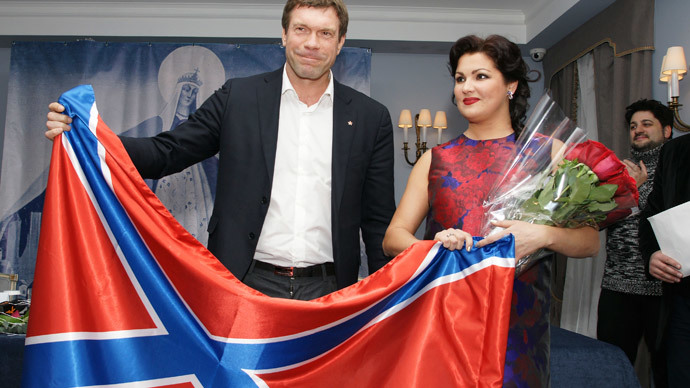 World-renowned opera singer Anna Netrebko has angered the public and the Austrian government after donating $18,000 to artists in Donetsk, eastern Ukraine, and unwittingly getting into a picture with a rebel flag of the region.
Netrebko, who is of Ukrainian descent and holds Russian and Austrian citizenships, donated $18,439 to the Donetsk Opera Theater, located in eastern Ukraine. The world-renowned singer was in St. Petersburg to make the donation.
The news spread like wildfire after rebel leader Oleg Tsaryov, the chair of the self-proclaimed region in eastern Ukraine posted the resulting photo on Twitter. It depicts him standing next to an unsuspecting Netrebko, who's helping him hold up the flag.
This immediately led to a political split on the internet, with users calling each other ignorant on her Facebook page, as well as Tsaryov's Twitter account.
Анна Нетребко приняла знамя Новороссии! #Донбасс #Новороссия #Украинаpic.twitter.com/srcpcSG3ow

— Олег Царев (@OlegTsarov) December 8, 2014
Having realized what had happened, Netrebko quickly took to Facebook to explain that her donation was to support art and artists "at a time of terrible conflict." She alluded to her Soviet upbringing, when Russia and Ukraine were as one.
"I simply want the fighting to end as soon as possible" she said, explaining that "the presence of the flag was unplanned and caught [her] off guard; I actually did not recognize it at first and realized only later what it was."

That didn't stop people from setting up a campaign to boycott the Soviet-born singer (whom the Western media has called Russian, despite her de facto nationality being Ukrainian). The campaign is quickly gathering pace under the hashtag #BoycottAnnaNetrebko. Her statements alleging a complete lack of association to either the rebels or politics in general have had little effect at first. But later, those who believed her explanations went on Twitter to voice sarcasm over the popular interpretation of her actions.
#BoycottAnnaNetrebko because war is peace, freedom is slavery, and charity is "support for terrorism." #Netrebkopic.twitter.com/6nZCJjuOSq

— Nina Byzantina (@NinaByzantina) December 9, 2014
The Austrian government called Netrebko's donation "problematic."
"Her meeting with a separatist leader and having a photo taken in front of a separatist flag is highly problematic," a spokesman for Austria's Foreign Ministry told Reuters. "Given the really difficult situation we are facing in Ukraine, this is anything but helpful."
Others moved to take more concrete steps. Austrian Airlines, a longtime user of the opera diva in its advertisements, has simply cut all ties.
"Anna Netrebko used to be an advertising partner of Austrian Airlines. The advertising contract with Ms. Netrebko expired at the end of November," a spokesman said. "We clearly distance ourselves from any extreme political position and the use of armed violence."
#BoycottAnnaNetrebko because she donated $ to artists of #Donetsk Opera who work without pay under Ukrainian bombs. pic.twitter.com/UOZ9yzh8iw

— NedoUkraïnka (@ValLisitsa) December 9, 2014
She earlier said she would visit Donetsk to sing as soon as the situation settles down.
"I have a lot of musician friends in Donetsk, we have been writing to each other a lot, and they told me the theater was sacred for them, and the building had been partly damaged. I decided that I wanted to help as much as I can. I think it's the right thing to do because art is art, and helps us get through all situations," she wrote.
According to UN estimates the death toll in Ukraine has passed 4,300 people since the start of hostilities eight months ago.
You can share this story on social media: