Global internet freedoms in decline – monitoring group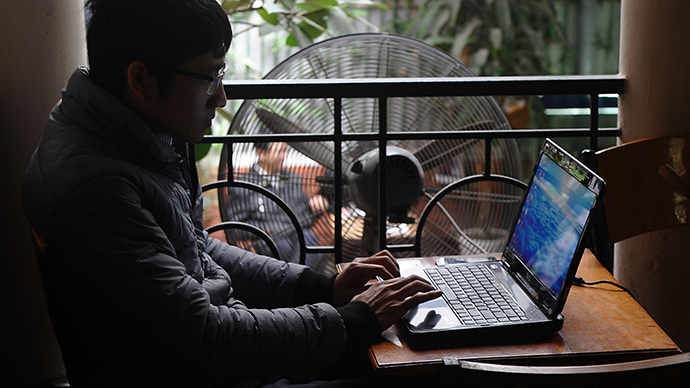 Internet freedom around the world has tumbled for the fourth consecutive year, with 36 out of 65 assessed countries showing negative trends as more governments resort to repressive measures that stifle online use.
A multiple of factors, including repressive laws, government surveillance and regulatory controls over online discussion are just some of the ways that Internet freedoms are slowly being chipped away, according to a survey by Freedom House, a US-based non-governmental organization.

Of the 65 countries analyzed in the study, entitled 'Freedom on the Net 2014,' 19 adopted new legislation that "increased surveillance or restricted user anonymity."
This Orwellian atmosphere of ubiquitous over-the-shoulder surveillance has had a chilling effect on internet freedoms, not to mention personal liberty, since more people are now facing prison sentences for not conforming to the new wave of laws governing internet use.
READ MORE:GCHQ spying 'doesn't breach human rights' – UK tribunal
"As a result, more people are being arrested for their internet activity than ever before, online media outlets are increasingly pressured to censor themselves or face legal penalties, and private companies are facing new demands to comply with government requests for data or deletions," the NGO reports.
Iran took first place for its strong-handed internet interference, followed by Syria, China, Uzbekistan, Cuba, Ethiopia, Vietnam, Bahrain, Saudi Arabia and Pakistan.
The report also cited Turkey, which recently updated the law on the National Intelligence Organization that protects the agency from public scrutiny. The amendments allow the intelligence service to collect information and electronic information from "public bodies, private companies, and individuals without a court order."
Uzbekistan and Nigeria also featured prominently in the study as they both passed legislation that require Internet cafés to keep a log of their clients, and in the case of Uzbekistan, the owners of such facilities are required to maintain records of customers' browsing histories for up to three months.
Internet freedom declined globally this year. https://t.co/tuU1D7Yuynpic.twitter.com/bCi4ruTZaN cc @gbengasesan@nnenna#fb#emx

— Emeka Azuka Okoye (@EmekaOkoye) December 6, 2014
Meanwhile, countries once thought to be shining examples of democracy also exhibited some disturbing activities that threaten a free and open internet.
France, for example, which experienced a sharp public outcry following Edward Snowden's whistleblowing revelations that the French intelligence agency had been cooperating with the NSA and its British counterpart in a global surveillance system, nevertheless passed legislation giving the state legal powers to "access or record telephone conversations, e-mail, internet activity, personal location data, and other electronic communications."
READ MORE:France bans file-sharing site The Pirate Bay
More worrisome for the advocates of internet freedom is that the French legislation makes no demands on judicial oversight and permits electronic surveillance for a broad range of purposes, including "national security," the protection of France's "scientific and economical potential," and prevention of "terrorism" or "criminality," the report says.
Russia was also mentioned for its so-called "bloggers law," adopted in May 2014, which requires anyone whose site gets over 3,000 daily visitors to register with the country's telecommunications ministry as a mass media outlet.
READ MORE:Tech heavyweights Facebook, Google, Apple support bill limiting NSA spying
The study also mentioned efforts to reform surveillance laws in the United States, which was rocked following the NSA revelations. Although much of the legislative changes were still pending as the report went to press, the study said that "some of the bills drafted in Congress would have essentially codified existing surveillance practices."
Unfortunately for the proponents of a free internet, the whistleblowing work of Edward Snowden has not had the effect of removing government oversight from the internet. If anything, it seems to have only served to increase such government regulation.