​'Millions of liters' of oil spilled in Israel, flooding nature reserve (PHOTOS)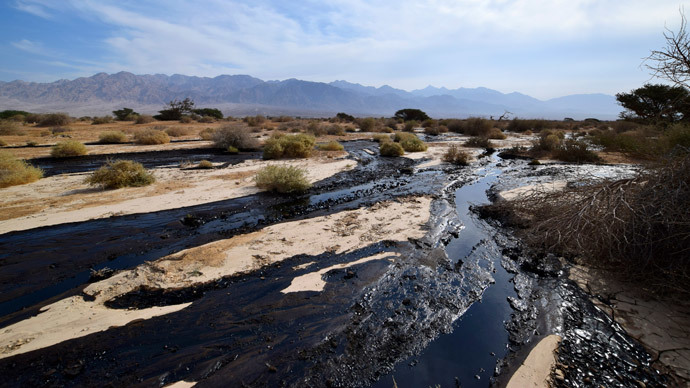 A pipeline breach near the Israel-Jordan border has flooded a nature reserve in what authorities call one of Israel's worst environmental disasters, causing large amounts of potentially poisonous gas to be released near Aqaba, raising health concerns.
The Eilat-Ashkelon crude oil pipeline near the Evrona reserve in the south of Israel accidentally ruptured Wednesday night spewing a river of oil across the desert. Israeli environment officials predict that the clean-up effort could take years.
Israeli nature reserve hit with oil spill http://t.co/RJMl3Z9MD2pic.twitter.com/U1Ir959njY

— Circa (@Circa) December 4, 2014
"The full scope of the incident is still not clear to us, but it is certainly a matter of millions of liters of crude oil, which is dangerous both to animals and to the nature reserve itself," Environment Ministry representative Guy Samet was quoted as saying in Globes, as Israeli financial news daily.
Samet has said that an estimated 4.3 mile-oil stream is flowing through the reserve, which is home to a large gazelle population and the world's northernmost doum palms, a rare type of branching palm tree.
Oil spill on Israel-Jordan border "1 of worst" environmental disasters in region's history pic.twitter.com/gSG6PbKL2L but barely makes the news.

— Sheera Frenkel (@sheeraf) December 4, 2014
"This is one of the State of Israel's gravest pollution events," Samet told Israel Radio on Thursday.
A spokesman for the Eilat Asheklon Pipeline Company (EAPC), Ronen Moshe, said that the spill occurred in a new section of the pipeline. The breach occurred during prep work for the construction of an international airport in Timna, in southern Israel, according to Haaretz. The reasons for the spill are being investigated.
"There are dozens of people in the field taking care of the aftermath," Moshe said Wednesday night, adding that the spill had not affected supply.
EAPC workers were joined by Israeli firefighters and rescue forces who worked to contain the spill, stopping the oil short of the Jordanian border. Route 90, the main road to Eilat, was temporarily closed pending emergency work. The team was reportedly able to curtail the oil flow after several hours.
Though the Jordanian side of the border remained unscathed, Jordanian officials have said that over eighty Aqaba residents have sought medical treatment for respiratory problems following the release of large amounts of hydrogen sulfide into the air, according to Haaretz. However, officials said that the residents' health problems were not serious.
The 153-mile pipeline which links Asheklon, a southern port city, to the Mediterranean coast, was opened in the 1960s to facilitate transport of Iranian oil to Europe, but has primarily been used to move oil within Israel since the deterioration of Israeli-Iranian relations after the 1979 Iranian Revolution.
You can share this story on social media: