At least two killed during Mubarak verdict protest near Tahrir Square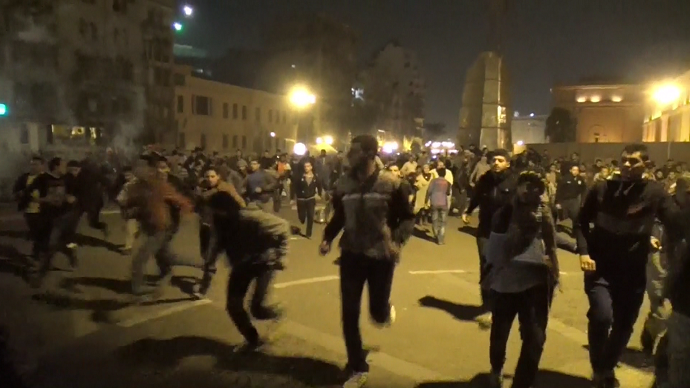 Egyptian police in Cairo have used water cannon and tear gas against hundreds of demonstrators protesting against the acquittal of former president Hosni Mubarak by a local court. At least two people reportedly died and 15 were injured in clashes.
Other than riot control vehicles, security officers used birdshot to disperse the crowd.
RT's Bel Trew reports from the Egyptian capital that live fire was allegedly applied by the police.
Meanwhile, the Arabic edition of Aswat Masriya – an outlet founded by the Thomson Reuters Foundation – cited Egyptian Ministry of Health spokesman Hossam Abdel Ghaffar as saying that at least two people died from bullet injuries received on Cairo's Abdel Moneim Riad Square. The official said it is yet to be determined if the deaths were caused by live fire or birdshot.
At least 15 other people were injured and brought to a hospital, he added.
Egypt Independent later reported that at least 85 people were arrested in central Cairo, including four journalists.
The police, who earlier promised to refrain from violence, released a statement saying that the use of force was justified, as members of the banned Muslim Brotherhood organization have infiltrated the ranks of the demonstrators.
However, people in the streets told Trew that the attack by police was unprovoked.
#Egypt Security forces tear gassed crowds protesting against today's #Mubarak Trial verdict that would see him walk free in months

— Bel Trew - بل ترو (@Beltrew) November 29, 2014
Arrests among the demonstrators have been performed by security forces, with "some Egyptian journalists apparently among those detained," Trew reported.
85 arrests according to Cairo's head of security, via @NoProtestLaw. #egypt#egydetainees

— Mai El-Sadany (@maitelsadany) November 29, 2014
"On the streets of downtown Cairo we're seeing clouds of choking tear gas, and still the sporadic sound of gunfire is being heard, as the police are looking for anyone who could have participated in the protest," Trew said.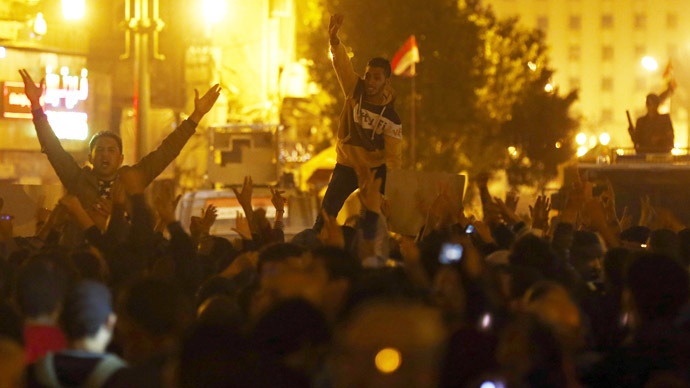 Demonstrators told RT that "there have been sweeps of arrests, with dozens taken. People have been picked up in the streets, sometimes in cafes, beaten in the back of police trucks. It's completely chaotic."
Armored vehicles moved from the square towards a nearby bridge to deter protesters from congregating, a witness told Reuters.
Around 4,000 to 5,000 demonstrators gathered on the road leading to Cairo's Tahrir Square to rally against the Saturday court ruling, which found Mubarak not guilty of conspiring to kill hundreds of protesters during the 2011 uprising.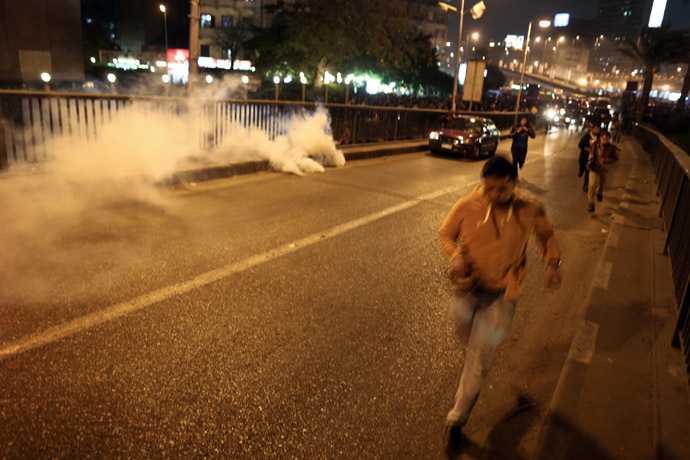 The protesters are chanting "Down with the military regime" and other slogans, condemning Mubarak and current Egyptian President Abdelfattah al-Sisi.
READ MORE: Protest follows verdict to acquit Egypt's ex-leader Mubarak of murder conspiracy charges
The iconic square, which gave birth to the Arab Spring, was blocked by security forces, who "bolstered their positions with concrete blocks, barbed wire and armored vehicles in anticipation of violence," Trew reported.
Angry people in the streets are calling the court's ruling "the end of the revolution," she said.
Mubarak had been charged along with seven of his former police commanders for the death of 239 protesters – a fraction of the 850 people whom activists believe died in the unrest three years ago.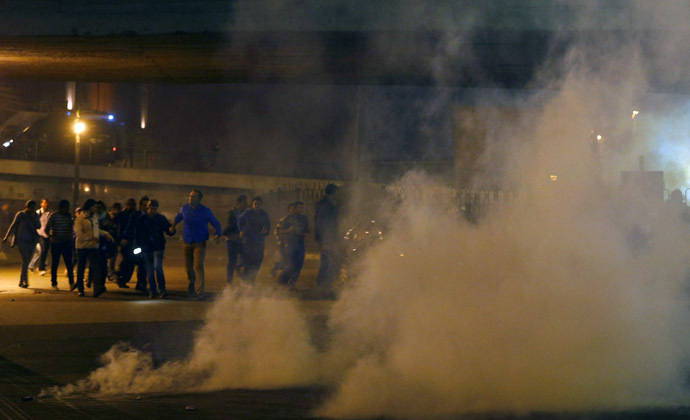 However, Judge al-Rashidi ruled on Saturday that the charges had been politically motivated and didn't deserve to be tried in his court.
Mubarak, who was president of Egypt from 1980-2011, was put on trial under the rule of Mohamed Morsi, who himself was ousted in a military coup last year.
Ex-interior minister Habib el-Adly and Mubarak's six aides were also found not guilty of conspiracy to commit murder.
The court further found that neither Mubarak, his aides, nor his two sons, Gamal and Alaa, were guilty of corruption charges stemming from a controversial gas deal with Israel.
You can share this story on social media: