Night set alight as Russian sub test-launches Bulava missile (VIDEO)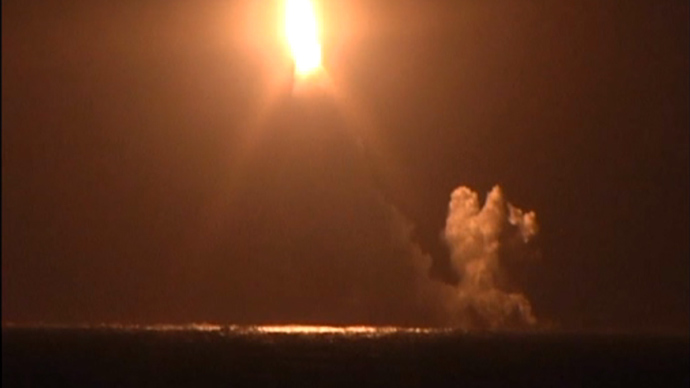 Russia's second Borey-class nuclear submarine test-fired a strategic Bulava intercontinental missile. The night blast-off from a submerged boat was the first successful SLBM launch for the Aleksandr Nevsky.
The K-550 Aleksandr Nevsky is the second Borey-class submarine, the new generation of boats carrying Bulava nuclear missiles. It has undergone modifications based on trials of the head submarine of the class, the Yury Dolgoruky, so its capability to fire the designated weapon is of paramount interest to the Russian Navy.
The missile was fired from a submerged submarine on Saturday morning from the Barents Sea, Russia's Defense Ministry reported. The missile's warheads reached the Kura test range in Kamchatka in the Far East.
Aleksandr Nevsky performed one unsuccessful Bulava launch during sea trials in 2013, three months before entering service. At the time, the rocket's second stage malfunctioned.
Saturday's launch was novel in another regard as well. The submarine was armed with a full set of 16 Bulava missiles, unlike previous launches, where only one or two SLBMs were on board.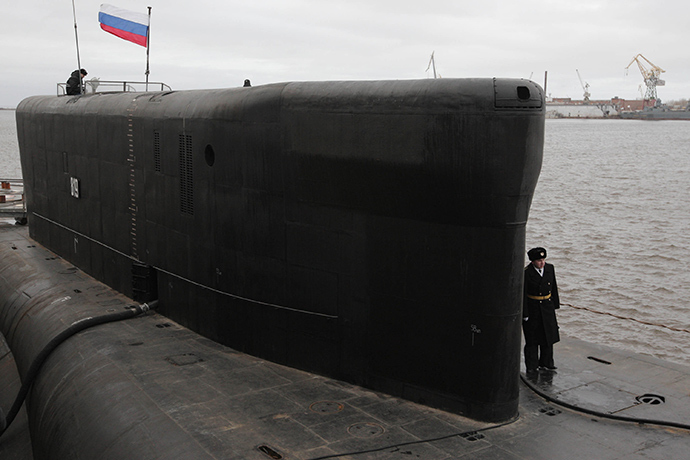 The pervious test-fire of a Bulava missile by the Russian Navy was in late October from the Yury Dolgoruky. A total of 21 Bulava launches, including 8 failures, have been conducted so far.
The missile is capable of delivering up to 10 individually targeted maneuvering nuclear warheads to a distance of up to 8,000 kilometers, or a lighter payload up to 11,000 kilometers. Paired with Borey-class submarines, it is to remain the backbone of the naval component of Russia's nuclear deterrent until at least 2040.