'If a kid had a toy gun at you, what would you do?' Dennis Rodman speaks to RT about Ferguson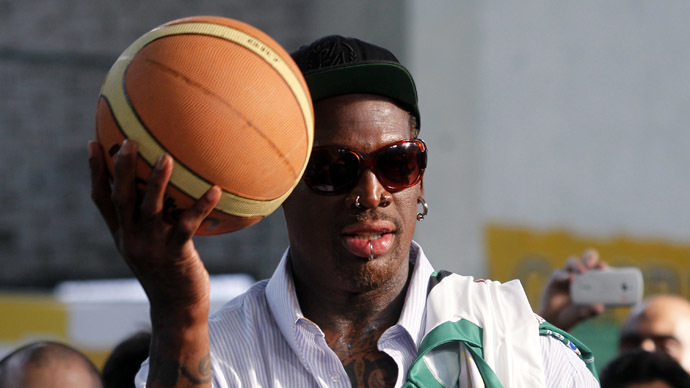 Former basketball star and NBA record-holder Dennis Rodman spoke to RT about the latest unrest in Ferguson, the jury's verdict in the case, and his attitude towards Russians.
Rodman visited Moscow for the very first time as a tourist this week. RT met with the former athlete – who is also famous for his eccentric looks and numerous controversial antics – to discuss the latest violent protests in Ferguson, which he thinks are being "blown out of proportion."
Darren Wilson, who has been a police officer for six years, was acquitted for the shooting of unarmed black teenager Michael Brown on Monday. United in their anger against what they believe is an unfair verdict, protesters took to the streets. The demonstrations turned violent at some point, with police using excessive force and heavy military equipment against the protesters.
At the same time, some used the unrest to loot local businesses – something that Rodman says is illogical. He asked the simple question of why people would raid their own town.
"They will say that this white cop killed this black kid for no reason...Well you don't know the whole logistics."
"If a kid had a toy gun pointing at you what would you do? You don't know that it's a toy gun...are you going to say 'hey, now shoot me?' Really?" he asked. The former basketball player said such situations are a "catch 22."
RT also asked about Rodman's attitude towards Russians in light of recent events, including US and EU sanctions on Russia over the Ukraine crisis.
"I'm not being biased," Rodman said, adding that Russians "are actually very nice" and "they love Americans…and a lot of people don't know that."