James Bond-inspired laser watch burns plastic and lights matches (VIDEO)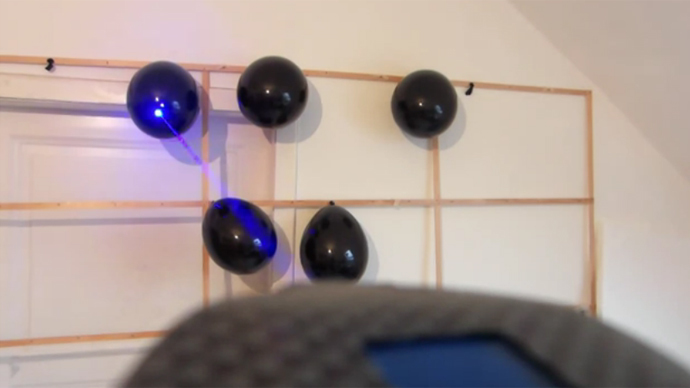 One man's invention might have just eclipsed the smart watch: behold the James-Bond-inspired laser watch! It blows stuff up from meters away. Its German creator is already renowned for recreating Spiderman's web shooter and Iron Man's rocket glove.
The gadget takes after the 1983 Bond movie Never Say Never Again. The creator Patrick Priebe also says he never thought he would make such a device, but the "fans" were really eager.
And the man has lots of fans, seeing as he runs Laser Gadgets – a company specializing in everything cool concerning the technology: he's made guns, rifles, the aforementioned X-Men movie claws and many more things, including, now, the laser watch.
His new invention can zap balloons from meters away, as the video shows. It can even light matches.
But Priebe says the device is still too bulky to be worn regularly. And the battery only lasts about 5 minutes, seeing as the motor boasts 1,500 milliwatts.
But there's room for improvement. After all, this is just a prototype – and this one took Priebe 40 hours to make. But he says if the device ever went on sale he probably would charge "way more than $300 for it."
And yet, it's not exactly for mass consumption. When CNET asked the German inventor whether he's afraid the laser might just burn his hand, he admitted that "if the beam hits your hand, it will get very warm very quickly, and I would probably stop pushing the button. It's in fact capable of burning your skin through. Not exactly a toy."
But as far as complexity goes, Priebe's never been one to shy away. His 'Iron Man' glove shoots actual rockets – it's the closest you'll see to movie. The Spiderman 'web shooter' is just as complex, relying on ingenious engineering skills to work.
Every project Priebe's ever touched has him as excited as a child, as he explains that the inspiration comes from being a huge fan of a given franchise. "I made a laser gauntlet once, now I just had to make a new one with a missile," he said of the Iron Man glove.
So, if some crime-fighting vigilante suddenly starts hunting down all of the city's bad guys, you'll know it's Priebe and his super toys.