Pope Francis warns human greed will 'destroy world'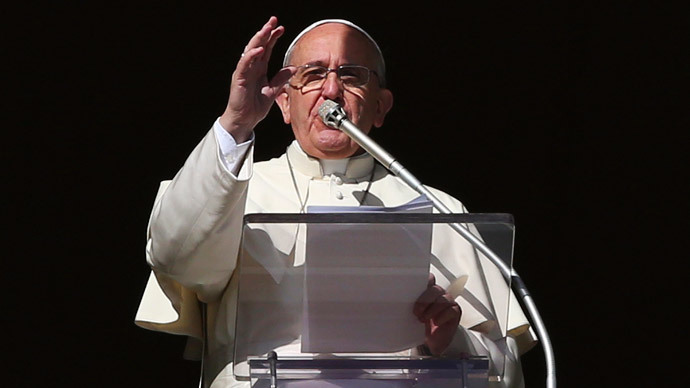 Pope Francis has launched his latest attack against the excesses of capitalism, saying humankind will bring about the end of the world unless we rein in our rapacious greed.
"God always forgives, but the Earth does not," AFP cited the Argentine pope as telling the Second International Conference on Nutrition (CIN2) in Rome, organized by the UN food agency (FAO) and World Health Organization (WHO) in the Italian capital.
"Take care of the Earth so it does not respond with destruction," he warned those in attendance at the three-day conference, which included representatives from 190 countries.
Clearly taking a page from Jesus's playbook, Pope Francis has made defense of the poor a key talking point for his papacy. Going beyond usual calls to implore people to charity to help those who are hungry and malnourished, he pointed a finger at perceived systemic problems in the global order.
"It is also painful to see the struggle against hunger and malnutrition hindered by market priorities, the primacy of profit, which reduce foodstuffs to a commodity like any other, subject to speculation and financial speculation in particular," Pope Francis said.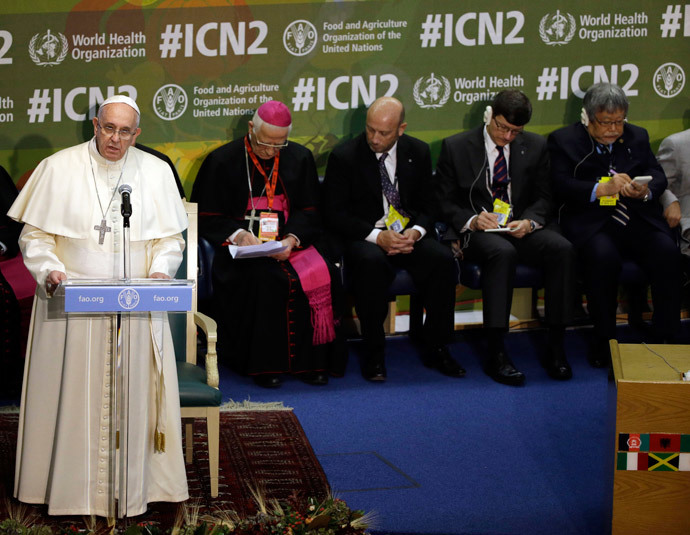 "The hungry remain at the street corner... and ask for a healthy diet. We ask for dignity, not for charity," he said.
While the number of undernourished people has halved over the past 20 years, an estimated 805 million people still do not get enough to eat, according to the UN's World Food Programme.
Showing his admiration for the work of the FAO and WHO, which convinced those in attendance to adopt a "Rome Declaration on Nutrition" and "Framework for Action," Francis implored those tasked with drawing up "rules and technical measures" to not lose sight of those battling just to survive.
"Feed the hungry, save life on the planet," he said at the conclusion of his speech to a standing ovation.
His latest speech comes nearly one year after he lambasted capitalism as "a new tyranny" in which the "thirst for power and possessions knows no limits."
He has also called out"greedy bankers" for getting rich on financial speculation.
Due to his often condemnatory stance towards the present economic world order, many critics have labeled the 77-year-old pontiff a Marxist. The Pope, however, countered he was practicing true Christianity as expressed in the gospel, and that Communism had merely stolen Christian ideals.
You can share this story on social media: