Protesters clash with Mexico City riot police over student massacre (PHOTOS, VIDEO)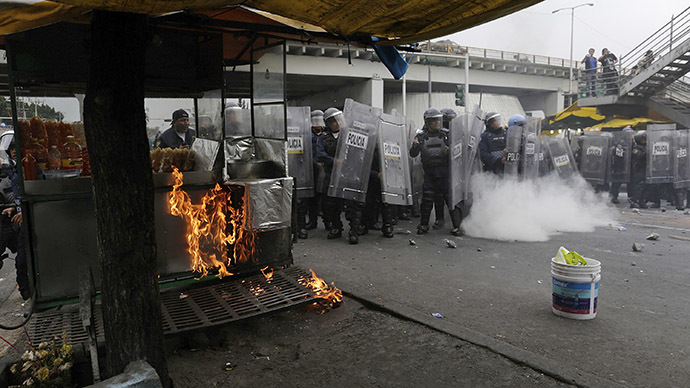 Mexican riot police have suppressed a violent student protest which tried to storm Mexico City's airport. The crowd raged as part of a national strike over the alleged government involvement in the "disappearance" of 43 students almost two month ago.
Police engaged some 300 masked demonstrators who threw Molotov cocktails and shot fireworks at law enforcement lines outside the capital's Benito Juárez international airport.
Enfrentamientos entre encapuchados y SSP en las cercanías del Aeropuerto #20NovMXhttp://t.co/o1LiDcwguDpic.twitter.com/PNBZoGmwL5

— Sopitas (@sopitas) November 20, 2014
To block youths from marching onto the airport, hundreds of riot police were deployed to surround the angry crowd chanting "We want them alive!" Young people began attacking the police blocking their passage. Police, armed with anti-riot shields, charged at protesters.
The confrontation along Fray Servando two kilometers from the international airport lasted about half an hour.
While no one was injured in the clashes, according to police, RT's Ruptly reports one protester suffered a broken leg in the clashes, which saw over 500 officers respond with tear gas and water cannons.
#Mexico: Two police patrols have been set on fire in Mexico city. #YaMeCanse#20NovMx #AccionGlobalporAyotzinapapic.twitter.com/D4yzsA96II

— ѕyndιcalιѕт (@syndicalisms) November 20, 2014
Mexico city is once again engulfed in chaos as three marches in Mexico City are taking place which started at 17:00 local time (23:00 GMT), and are due converge on the central square, or Zocalo, on the 114th anniversary of the day the Mexican Revolution to overthrow dictator Porfirio Diaz began in 1910, Reuters reports.
#AHORA Zócalo de la Ciudad de México ante miles de asistentes en protesta por los Normalistas Desaparecidos pic.twitter.com/bstl9fsDw8

— WebCampeche.com (@WebCampechecom) November 21, 2014
More than 30 Mexican cities are participating in the national strike demonstrations. However, the largest are happening in Mexico City and in the state of Guerrero, where the crime took place in late September.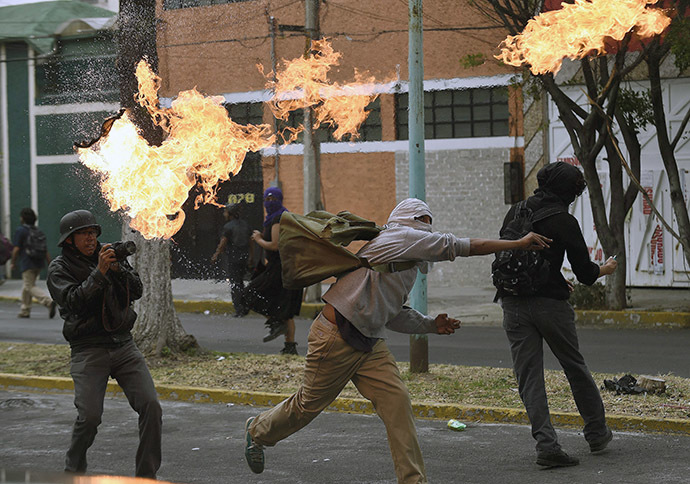 The disappearance of 43 students near the town of Iguala over 6 weeks ago continues to fuel outrage across Mexico as protests steadily intensify. The students were detained on September 26, following a protest where a group of students clashed with police. They have been missing ever since.
Their classmates blamed their "disappearance" on corrupt government and police with alleged close ties to drug cartels. Mass graves were discovered in the area in early October, but initial tests suggested they were not those of the students. More bodies have been found since then, and now the accuracy of the initial tests is under question.
People marching with torches again in Mexico City as they arrive at the Zócalo with thousands of others. pic.twitter.com/WGV64Ahm7H

— ⒶTony tren al SUR☭ (@MexicAnarchist) November 21, 2014
You can share this story on social media: