Fastest train ride: Japanese whooshed at 500kph on maglev test ride (VIDEO)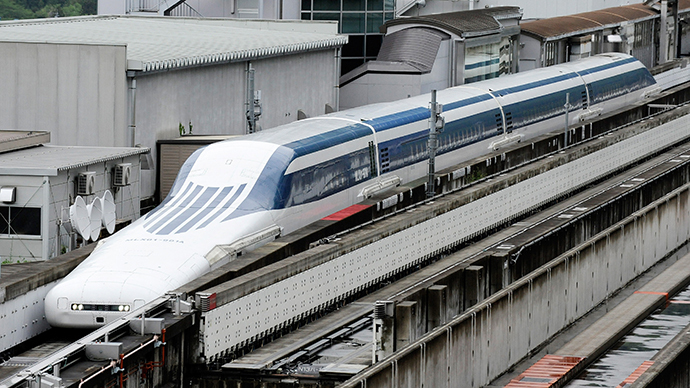 In one of the fastest train rides ever, 100 Japanese passengers have whizzed along the route in Yamanashi Prefecture on the lightning quick floating maglev train going 500 kilometers per hour.
The passengers of the test ride were awe struck during the high-speed ride on the Japanese maglev train, travelling on the route between the cities of Uenohara and Fuefuki.
"During the ride, I remember a feeling of lightness and as if the body was floating as when a plane takes off. Maglev train is wonderful," a 62 year old office worker and train fan Mr. Muramasa Hiroshi told Asahi Shimbun.
The train was able to achieve the unbelievable speed of 500 kmh by floating over the tracks. The tracking device established on board the train allowed passengers to monitor the speed, which at its maximum topped 502 kmh.
The method of travel - using magnetic levitation which reduces friction - holds the record for being the fastest in rail transportation. Maglev trains are now almost twice as fast as Japan's bullet trains which travel at about 300 kmh.
"When the speed surpassed 400 kmh my body became heavy, and I understood that this is maglev. Dizziness is felt more after you leave the train, then when you are riding it," said 80 year old Mr. Kametani Koshiro from Osaka, who took the train with his wife.
The Central Japan Railway Company (JR Tokai), is running eight days of testing for the experimental maglev train. While almost 300,000 people applied a total of 2,400 train fans were picked by lottery to take part in the experiment.
"I applied for my nephew who is a big railway fan, but now I am more excited than he is," said a 37-year-old from Kochi, who rode the high-speed train with his parents and two nephews.
JR Tokai hopes to complete the link from Tokyo to Nagoya by 2027 and the extension to Osaka by 2045, replacing the current bullet trains. When the line to Nagoya is completed the route of about 350 km which took at least 3 hours will be shortened to 40 minutes.The construction of the first line was estimated to cost 5.5 trillion yen (US$50 billion).