Crowdfunded lunar mission offers to store donors' memory boxes on moon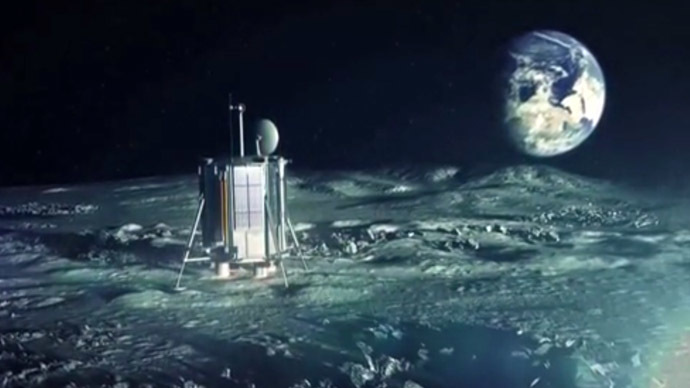 Take your best selfie and send it to the moon…along with your DNA code. For an earthly £60, you can get a personal 'memory box' in a time capsule buried beneath the lunar surface in "the most inspirational moon project since the Apollo landings."
The British company behind Lunar Mission One has teamed up with Kickstarter to seek public donations and raise £600,000 (US$1 million) in one month to launch the initial stage of the project. While the minimum pledge is only £1, those who donate £60 (about $90) or more would have photos, messages or videos buried in a hole drilled into the lunar surface.

There will also be the option to store your DNA code in a physical space, via the submission of a strand of hair.

This collection of digital memory boxes will probably run to tens of terabytes of data.

"To put this into perspective, a photograph can range from kilobytes to megabytes in size. Precise costings for data have not yet been confirmed, but the more space bought, the more expensive it will be," the organizers inform.

READ MORE: 3D-printed moonbase? No problem for our robots, says European Space Agency (VIDEO)
During the next four or five years as the project gets further developed, an online portal will be created for people to start uploading information to their digital memory boxes.

"We anticipate a structure for the portal not dissimilar to a Facebook page," organizers say. Individuals will be able to buy more space, as well as constantly edit information right up until before the mission launches and the time capsule is sealed. People will be able to buy memory boxes for themselves, or as gifts, via the mission's website.
In an effort to keep personal information private, organizers say they will be putting "stringent measures" in place to ensure that private information is secured.

Lunar Mission One is challenged to study the moon's south pole. Drilling deep into the lunar surface, Lunar Mission One plans to gather further evidence as to the suitability of the south pole for a future lunar base.

The spacecraft platform will drill down to a depth of at least 20 meters – about 10 times further than drilled before, and potentially as deep as 100 meters. This will enable scientists to analyze lunar rock that's 4.5 billion years old and trace the origins of the moon.

The Lunar Mission One lander will be delivered into space by a medium lift launch vehicle, such as a SpaceX Falcon 9, the project's website informs. Once on the surface, the spacecraft will need a range of equipment to support the objectives of the mission. Apart from the drilling system to create the borehole, this will include a jointed robotic arm.

Power on the lunar surface will be delivered from state-of-the-art solar cells fixed to the external surface of the lander, which are expected to capture around 0.5-1kw, less than a domestic kettle. Thanks to the angle of the moon's rotation, landing on the rim of a crater will provide the drilling platform with the best exposure to constant sunlight throughout its mission.