​2 US men on run after attempt to mail body parts from Bangkok
Published time: 17 Nov, 2014 16:28
Edited time: 18 Nov, 2014 05:42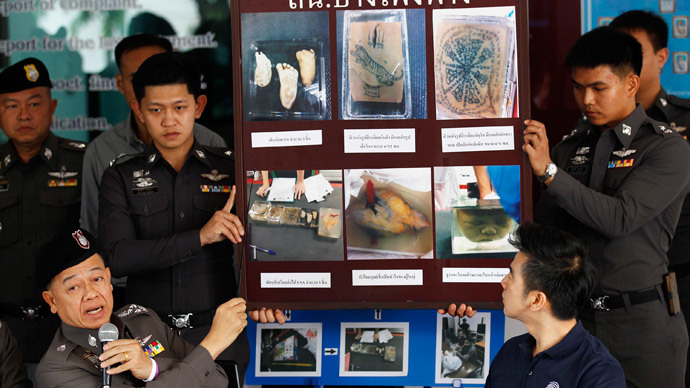 Thailand's police forces are looking for two Americans, who attempted to post the body parts of a baby to the US from Bangkok, via the city's DHL depot. A baby's head, at least one foot, and some folds of skin were discovered during routine scans.
Bang Phongphang police were summoned to the DHL service center after its X-ray screening program revealed the attempt to deliver the body parts to the US. Alongside infant body parts, there was an adult heart with a stab injury
"They were not from one body but were in small pieces. They have been sent for forensic examination to confirm if they were from babies who died after delivery or in the womb," Police Major General Chawalit Prasopsin told AFP News on Sunday.
Doctors at Bangkok's Siriraj Hospital told Reuters that the parts had been taken from the hospital's Medical Museum, known to locals as the Museum of Death.
"X-rays showed there were contents similar to human body parts. From our investigation of three parcels we found human body parts in five plastic containers," Police Lieutenant General Ruangsak Jaritake, the National Police Commissioner's assistant, told reporters.
The packages were marked 'children's toys' but x-rays proved otherwise.
Some of the parts had been concealed in a box labeled "antique train set collection" and were intended to be delivered to addresses in Las Vegas. Thai police then enlisted the aid of the FBI to help locate and investigate the precise destination.
"The initial assumption is that the body parts were probably stolen... as the hospital said some items were missing from an exhibition room," deputy national police chief Ruangsak Jritake told reporters.
The two men believed to be responsible for the delivery attempt are aged 31 and 33. They were initially held by police and questioned for three hours late on Saturday night, reported the Bangkok Post. During questioning they maintained they bought the parts in a street market. They were released at 2am and crossed into Cambodia on Sunday.
They told investigators that they had intended to give the gifts to friends as a joke and their fingerprints were taken. However, they have been re-summoned by police "for further investigation" over the violation of customs laws.
Police said that one of the men – Ryan McPherson – was a controversial video maker. He apparently got into trouble with police previously for making exploitative videos about homeless men some ten years back. He was sentenced to 280 hours of community service at a homeless shelter in 2003.
The parts were believed to have been removed by a medical professional, given the methods used to cut and preserve. Preserved fetuses are thought to bring good luck in Thai black magic rituals. In 2012, a Briton was arrested in Bangkok for attempting to smuggle six fetuses wrapped in gold leaf.