'Politics blinded them?' Putin says sanctions against Russia may backfire on Ukraine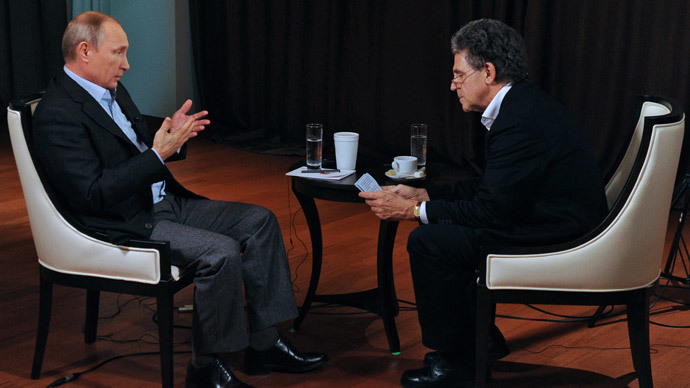 It's astounding that the EU and US don't realize that by limiting Russia's access to international capital, they're actually undermining the financial wellbeing of Ukraine, which is credited by Russian banks, Vladimir Putin told German TV channel ARD.
Read the transcript of the interview, part 1
The Russian President said that the country's banks "have currently extended a $25-billion loan to the Ukrainian economy."
"If our European and American partners want to help Ukraine, how can they undermine the financial base by limiting our financial institutions' access to world capital markets?" said Putin in the ARD interview, as cited by Kremlin.ru.
"Do they want to bankrupt our banks? In that case they will bankrupt Ukraine. Have they thought about what they are doing at all or not? Or has politics blinded them? As we know eyes constitute a peripheral part of brain. Was something switched off in their brains?" the president wondered.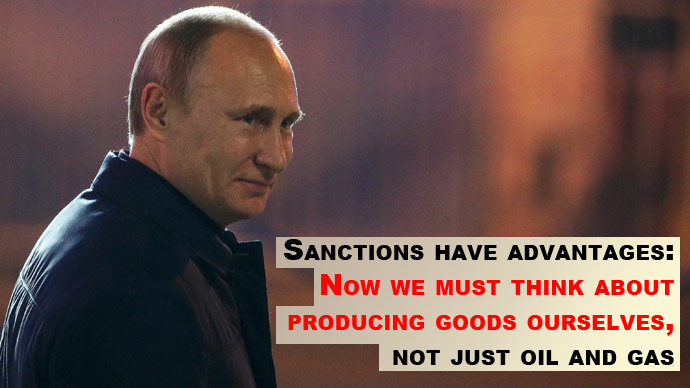 The Russian state isn't going to execute its formal right to demand an early payment of the $3 billion it loaned Kiev a year ago, Putin said.
"We have already decided that we will not do it because then Ukraine's whole financial system would collapse," he explained.

"We do not want to aggravate the situation. We want Ukraine to get back on its feet at last," the president stressed.
As for the Russian banks, it's their shareholders, including foreign ones, that should decide whether to demand early payment from their Ukrainian credit customers or not, he said.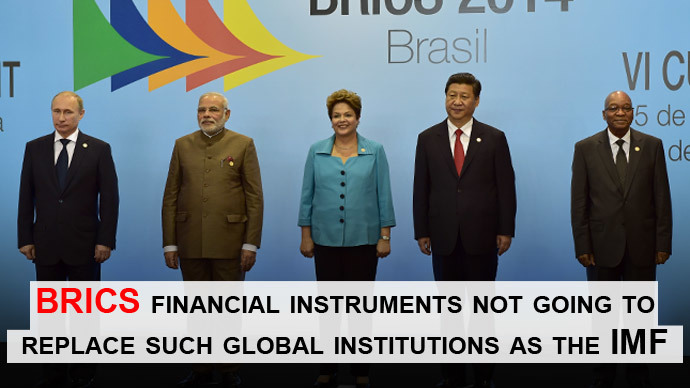 According to the president, the economies of different states are interconnected in the modern world and
"any restrictions are counterproductive,"
and in the long run cause damage to all international economic and financial players.
In recent months, the US and EU, which blame Russia for fanning the current Ukrainin unrest, have implemented several waves of sanctions against Russia.

The restrictive measures targeted not only individual politicians and businessmen, but also the country's financial, energy and defense sectors.
The president said that it's "rather difficult" to estimate the damage done by the sanctions to Russia's economy, but he confirmed that "we have really sustained losses, it is true."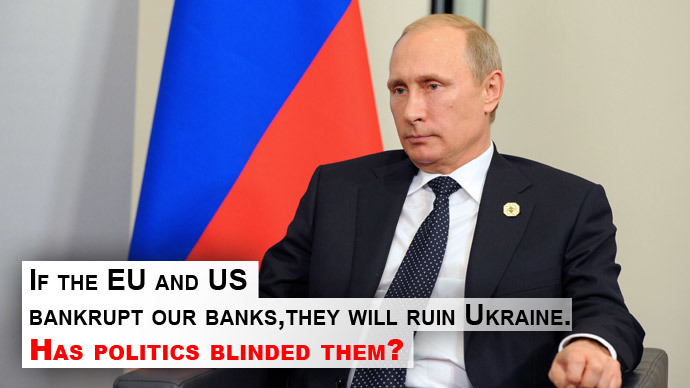 However, he stressed that the current situation may also have "some advantages," which include boosting production within Russia.
The restrictions by the EU and US, "induced us to produce these goods ourselves" instead of relying on imports, Putin said.
"The comfortable life, when all we had to do was produce more oil and gas, and to buy everything else, is a thing of the past. Now we must think about producing goods ourselves, not just oil and gas," he explained.
The president expressed confidence that Russia has the capabilities "to address any technology issues independently, including in the defense sphere."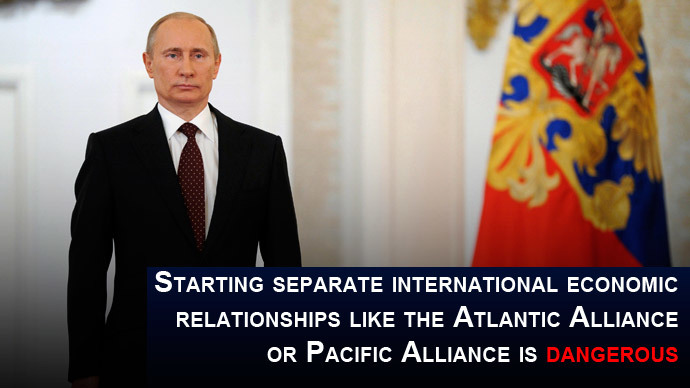 Putin stressed that he expects the Russian economy to keep growing despite the setback caused by the current situation.
"With regard to growth, we should note that this year growth was modest but it was present nevertheless at about 0.5–0.6 percent. Next year we are planning to achieve 1.2 percent growth, the year after that 2.3 percent and 3 percent in three years," he said.
"Generally, these are not the figures we would like to have but nevertheless it is growth and we are confident that we will achieve these figures," Vladimir Putin added.
You can share this story on social media: