Missed by an inch: Man dodges death as dump truck collides with SUV (VIDEO)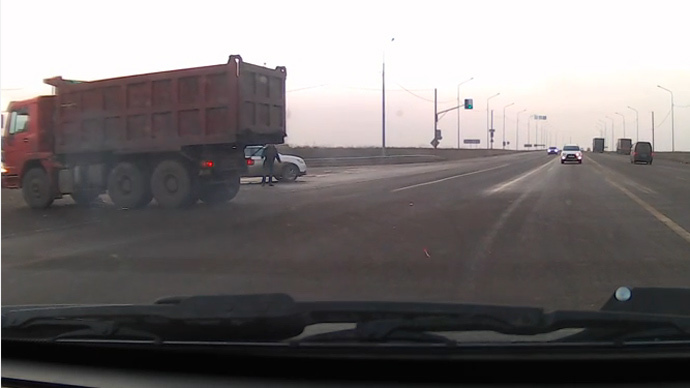 Call it fate, pure luck, or a guardian angel. An extremely lucky Russian pedestrian survived against all odds after getting caught in the middle of an SUV and a dump truck as they collided at high speeds.
The man was waiting to cross a busy road in a small town in Tula region south of Moscow when he found himself in the center of a terrible crash.
A dashcam video shows a white SUV breaking the rules and accelerating to turn left, ignoring an oncoming truck approaching at high speed.
As the SUV makes the turn just next to the bystander, the truck hits the vehicle, sending it spinning in a cloud of debris. The truck goes on for a short time before coming to a halt. Both vehicles miraculously missed the man.
After the shocking collision, the man simply shakes off the debris from both vehicles and proceeds to cross the road as if nothing has happened.