Sputnik launched to news orbit: Russia's new intl media to offer alternative standpoint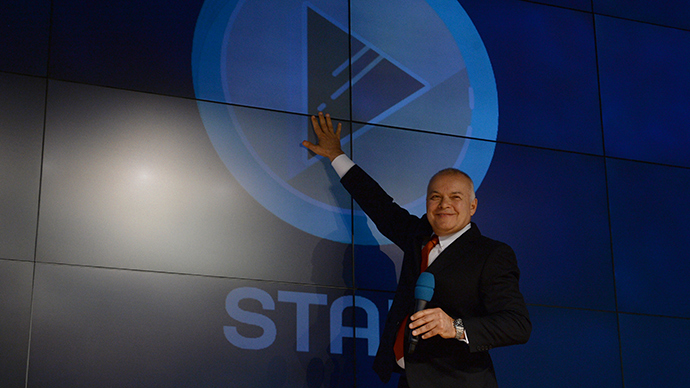 Russia has launched an ambitious new project: an international news agency and radio Sputnik. The new media outlet wants to target global audiences with its non-mainstream take on world events.
The news outlet was launched by Rossiya Segodnya under the umbrella of the renowned RIA Novosti brand.
"Many people ask, 'Are you replacing RIA Novosti with Sputnik?' No, we are not," Rossiya Segodnya's general director, Dmitry Kiselev, said on Monday.
"RIA Novosti and its flagship website ria.ru remain a crucial information source in Russia, one of the largest in the country's media market. But outside Russia our agency will be branded as Sputnik, which sounds familiar, warm, swift and romantic," he explained.
We are about to reveal our new media brand, stay tuned for more updates http://t.co/uF7jOukkgxpic.twitter.com/8M7oQg6b56

— Sputnik (@SputnikInt) November 10, 2014
Sputnik will take a new approach to international broadcasting: instead of having radio stations in foreign languages based in Moscow, as was the case before, Sputnik will rely on local media outlets for content.
"It is absolutely clear to us that trying to broadcast in foreign languages and win over foreign audiences from Moscow is not a productive approach," Rossiya Segodnya Editor-in-Chief Margarita Simonyan said.
Sputnik will offer alternative media perspective - Radio Sputnik correspondent http://t.co/Na2imIuSPgpic.twitter.com/peKIUJWo6K

— Sputnik (@SputnikInt) November 10, 2014
In 2015, Sputnik intends to broadcast in 30 languages, with over 800 hours of radio programming a day, covering over 130 cities and 34 countries.
It already has around-the-clock news feeds available in English, Spanish, Arabic and Chinese. The content is provided by regional editorial offices in Washington, Cairo, Beijing and Montevideo.
Major new media brand 'Sputnik' goes live November 10. Please visit our new flagship website: http://t.co/jkXn47X4GSpic.twitter.com/UtOm3EH0Nv

— Sputnik (@SputnikInt) November 10, 2014
The news outlet only uses modern formats in radio broadcasts, "such as FM, digital DAB/DAB+ (Digital Radio Broadcasting), HD-Radio, as well as mobile phones and the internet," according to Sputnik's website.
Sputnik promises to come up with a "different perspective" to Western mainstream media news coverage.
"We will provide alternative interpretations that are, undoubtedly, in demand around the world. We think that the world is tired of the unipolar point of view… We believe that the basis of such a multicolored and multipolar world is international law," Kiselev said.
You can share this story on social media: