US, NATO say no evidence of new 'Russian invasion' of Ukraine
Both Pentagon and NATO are aware of a "Russian invasion" rumor produced by Kiev official, but said they have no evidence to back it, instead claiming that Russia again boosted military presence along the border in yet another potentially threatening move.
On Friday a spokesman for Ukraine's National Security Council, Andrey Lysenko, has announced that Russia has sent 32 tanks, 16 howitzers, 30 trucks of ammunition and three trucks with radar equipment to rebel-held areas – offering no evidence of his claim.
After the news made headlines in the western media, NATO rushed to reassure the press that the alliance was aware and "looking into these reports," which if confirmed "would be further evidence of Russia's aggression."
Speaking to journalists, Pentagon spokesman Rear Adm. John Kirby also could not confirm the reports.
"I don't have any independent operational reporting that would be able to confirm that report that these formations have crossed the border," Kirby said.
READ MORE:Moscow to Kiev: Stick to Minsk ceasefire, stop making false 'invasion' claims
Russian FM Sergey Lavrov also confirmed that there are no Russian troops in eastern Ukraine, adding that "even Jen Psaki said that the US State Department has no information about it."
After a meeting with the US Secretary of State John Kerry on Saturday, Lavrov reiterated that "the ceasefire agreement was signed between the militias and the government of Ukraine, and they need to complete this process."
Yet both the US and NATO have tried to save face claiming, that even though reports have yet to be verified, Russia is still guilty of building troops along the 2,295-kilometer border.
"What we do see is a continued presence of significantly capable and ready Russian battalion tactical groups right across that border. And they are close. And they are very capable," Kirby added.
"We can confirm a recent increase in Russian troops and equipment along the eastern border of Ukraine," RT was told in an official statement, attributed to a NATO military officer. "These vehicles appear to be unmanned, but represent a potential for significant reinforcement of heavy weapons to the Russian backed separatists."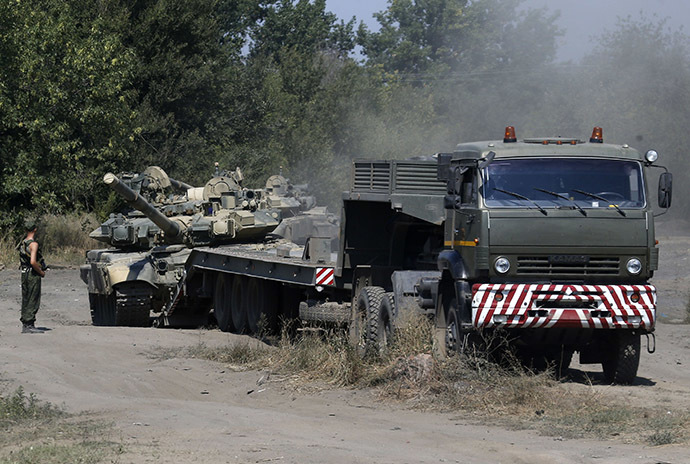 What the US and NATO also agree on is that Russia is somehow destabilizing the situation.
"Russia continues to demonstrate its lack of regard for international agreements and its determination to further destabilize Ukraine," NATO said, while Kirby concurred saying "they are doing nothing to decrease the tension."
The accusations of Russia's "provocative" deployment of additional troops along its border with Ukraine provoked a sarcastic response from the Russian Defense Ministry, which said any concerns should better be addressed to those producing the rumors, rather than to Russia.
"All such provocative 'reports' aimed at further escalating the tension over the civil conflict in southeast Ukraine have a single source. The source is not Ukrainian, although it currently operates from one of the governmental buildings in Kiev," the statement said, apparently alluding to the heavy presence of American personnel in the Ukrainian Security Service.
You can share this story on social media: