Assembly required: Satirist offers 'IKEA flatpack guide' to Israeli-Palestinian crisis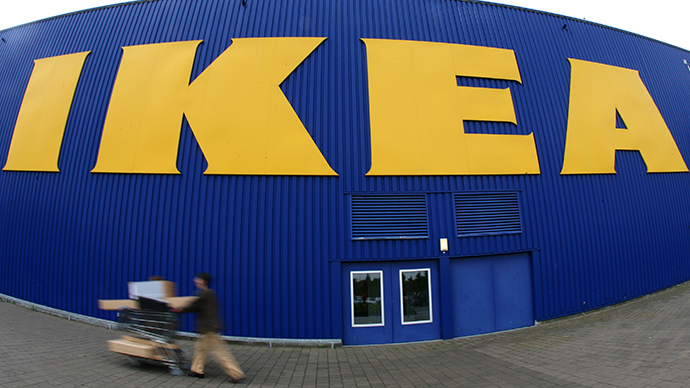 A Lebanese blogger provided some tongue-in-cheek humor over the diplomatic breakdown that occurred between Sweden and Israel after the new government in Stockholm announced its recognition of Palestine as a state.
READ MORE: 'MidEast not IKEA simple' - Israeli FM snaps at Sweden over Palestine
The new center-left Swedish government on Oct. 3 formally announced its recognition of Palestinian statehood during the government's swearing-in ceremony. Israel slammed the announcement, while the US, after decades of unsuccessfully seeking to broker a deal between the Israelis and Palestinians, called the move "premature."

But perhaps the most memorable response came from Israeli Foreign Minister Avigdor Lieberman, who took a jibe at Swedish furniture giant IKEA in an effort to emphasize the complexity of the Middle East crisis.

"The Swedish government needs to understand that relations in the Middle East are more complicated than a piece of furniture from IKEA that you assemble at home, and should act with responsibility and sensitivity," he said.

But the Swedish foreign minister did not miss a beat.

"I will be happy to send Israel FM Lieberman an IKEA flat pack to assemble," FM Margot Wallstrom replied. "He'll see it requires a partner, cooperation and a good manual."
A satirical IKEA guide to the Israeli-Palestinian crisis http://t.co/AvlB1l2vJBpic.twitter.com/NG8nFS0GES (HT @KarlreMarks)

— Ishaan Tharoor (@ishaantharoor) November 5, 2014
It is due to tense political moments like these, perhaps, that humorists were born.

Karl Sharro, a London-based Lebanese native who created a "Middle East political and cultural blog with occasional forays into satire," created his own IKEA manual to present his personal views on the Middle East logjam.

The cartoon, which features one group of IKEA figures donning helmets and aiming rifles at caricatures with hands extended, betrays Sharro's obvious sympathies for the Palestinian cause.

However, it will certainly require more than comic relief to alleviate heightened tensions between Israelis and Palestinians.

This week, one person was killed and 17 injured in two separate attacks that involved Palestinian drivers slamming their vehicles into crowds of Israelis. Israeli authorities are treating the incidents as terrorist attacks.

The attacks occurred as Israeli officials in Jerusalem temporarily closed the Al-Aqsa mosque, which dates from the 8th century and is considered the third holiest site in Islam. Recently, some Israeli activist groups have been demanding access to the most volatile site in Israel, which is also the Biblical site of two destroyed Jewish temples.
You can share this story on social media: