​Kiev declares passport control on border with rebel-held regions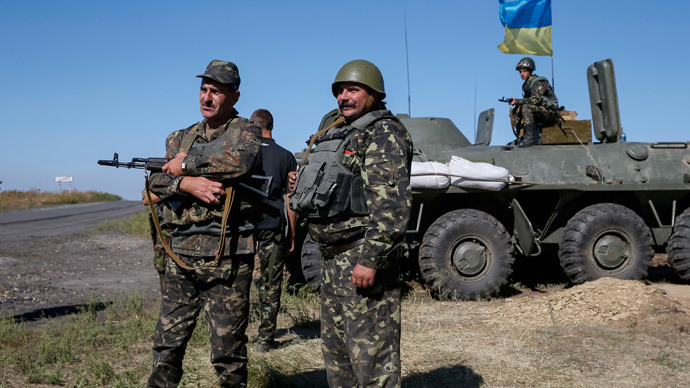 Border guards stationed at Kiev-controlled checkpoints surrounding the rebel-held areas of Donetsk and Lugansk Regions will now be checking IDs of every person traveling through them, the border guard service has announced.
An ID could be an internal document of a Ukrainian citizen or an international travel passport for both Ukrainians and foreigners.
Foreigners would have to show an applicable visa, the Ukrainian authorities said Thursday. Lack of a visa – which would be true for Russians, who can travel to Ukraine without one – would constitute a reason to detain a person to check his/her identity and how he/she happened to enter Ukraine.
"This is needed to provide security to the people living in the territory under our control, to protect them from in inflow of criminal elements, arms and other banned items from territories not under our control," spokesman for the service Oleg Slobodyan said.
It was not immediately clear how big a practical impact the new rules would have. Slobodyan said the rules are a summary of procedures already in place. Both Ukrainian troops and rebel forces have been routinely checking people crossing the internal border for months.
But establishing the border formally is what the new rules lack. They refer to the 'anti-terrorist operation zone' a term Kiev uses to describe areas held by the anti-government militias, but the zone was never put on a map. In fact, establishing the exact border between zones controlled by Kiev and rebels before pulling back heavy weapons has been one of the major goals of the Minsk ceasefire agreement.
READ: Poroshenko considers canceling law on special local governance of Donbass
The development comes days after Ukrainian President Petro Poroshenko also threatened to abolish a law giving special status to the rebel-held areas. The law provided for a certain degree of autonomy to the rebels as long as they acknowledged Ukrainian sovereignty over them.
The self-proclaimed Donetsk and Lugansk Regions rejected the offer and held elections last week in a move designed to legitimize the authorities, who came to power after defying Kiev, where an armed coup in February ousted an elected government and imposed a new one.
You can share this story on social media: