​Microsoft goes for smartwatch, launches new cross-platform band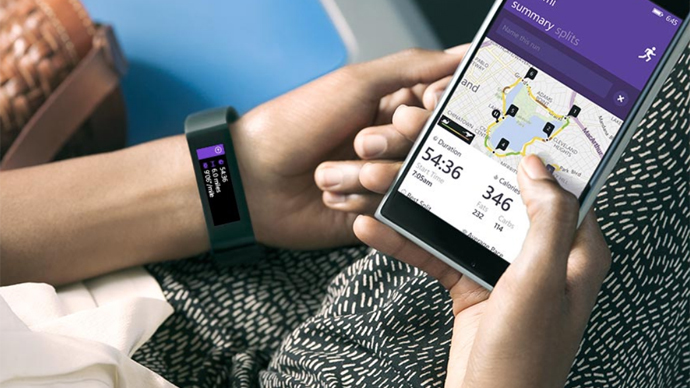 Microsoft's cross-platform wristband launched this week, catapults the company into the world of wearable fitness trackers, and beyond.
The 18.5 millimeter, 60 gram band is compatible with different platforms including iOS, Android, and Windows Phone. However, only Windows Phone users will be able to issue voice commands to Cortana, the intelligent personal assistant exclusive to Microsoft devices.
According to reviews, when fully charged, the band's battery should last about two days.
The watch, made of thermoplastic elastomer, a soft and stretchy material, comes in three sizes. The smartwatch, which has built-in GPS, also sports a UV sensor to monitor sun exposure and a galvanic skin response sensor to keep track of stress levels.
In addition to a 10-sensor fitness and sleep tracker, the gizmo also boasts email capabilities, calendar reminders, Twitter and Facebook notifications, as well as weather and finance info.
The band is part of Microsoft's new health initiative - Microsoft Health. It includes a cloud service for consumers and the industry, stores and analyzes the world's health and fitness data, striving to transform this into practical insights, according to a launch release on the Microsoft site.
Techcrunch lodges a few complaints about the clunkiness of the gizmo, but concedes this is typical of first generation devices, and goes on to praise the product's versatility.
"Most importantly, it doesn't do just one thing. If it were a fitness-only device, I wouldn't use it. If it only had a few lightweight apps, I wouldn't use it. If it were just a sleep tracker, or a heart-rate monitor, I wouldn't use it. But with those features combined, it does enough to fit into my daily flow," the reviewer writes.
Wired, also pleased with the doodad, writes, "[Microsoft] spent a tremendous amount of resources to develop a product that's not just functional, but also good looking enough to wear every day."
For now, the band is only on sale in the US, but Yusuf Mehdi, corporate vice president of Devices and Studios at Microsoft tweeted that the company was "looking to scale more countries."