Donbass on the eve of Election Day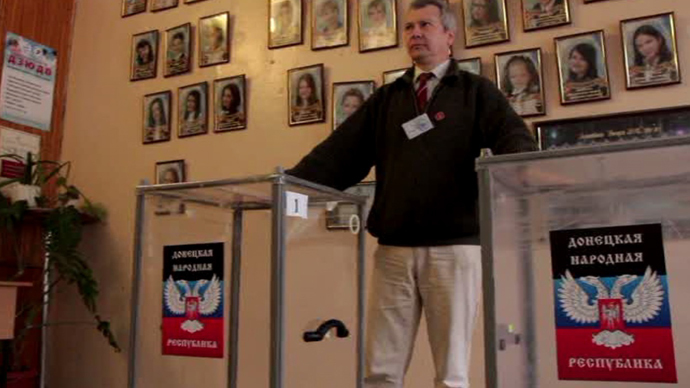 The self-proclaimed republics of Donetsk and Lugansk are preparing to open polling stations on Sunday to elect their leaders and MPs, while people are struggling to survive both the sporadic shelling and the grave humanitarian crisis.
"It's just seems that everything's closed down. A while ago, it took me two songs to go from Makeevka to Donetsk, now it's seven. It means we've got traffic jams. And that means that people are coming back," says a young businesswoman.
"There was just one clothes store in Donetsk open in the summer, now there are seven. We've even got a movie hall – in Makeevka. The Opera and Ballet Theatre has kicked off a new season. Two cafes are open, though they cater only to the needy and the militia."
The trip to the checkpoint on the Russia-Ukraine border was quiet and we got there safely. We started off in Rostov and it took us under two hours to reach it. The narrow highway runs next to autumnal fields. There's not much traffic these days.
Russians living next the border don't want a repeat of what they had to endure last summer, when Ukrainian guns and shells occasionally hit Russian territory while targeting checkpoints captured by Donbass militia. Many people in Russia want their armed forces to intervene, but at the same time they realize the Minsk talks in September and the ceasefire rule out such a move. Ultimately, as Russian officials repeatedly indicated, Russia is not a party to the Ukraine crisis.
Russian border guards inspected our passports but didn't stamp them. There are lines of cars and buses going both ways, and the numbers are highly symbolic – in the summer, Ukrainians rushed to leave their home country, while today the amount of inbound and outbound traffic is roughly the same. It means people are not fleeing the war-torn region ahead of the election, despite rumors circulated on the internet saying that the vote would be marred by provocations, terror acts and a massive offensive by the Ukrainian army.
Donbass militia fighters man the Ukrainian customs. Journalists are warmly welcomed here and greeted by their first name.
It took us two more hours to reach the stronghold city of Donetsk.
The driver was surprised when he didn't see burned-out tanks on the road, a sight that marred the landscape around the small town of Ilovaisk after the Ukrainian forces were trapped there in August. We came across only one rusty carcass, the last reminder of the fierce battles.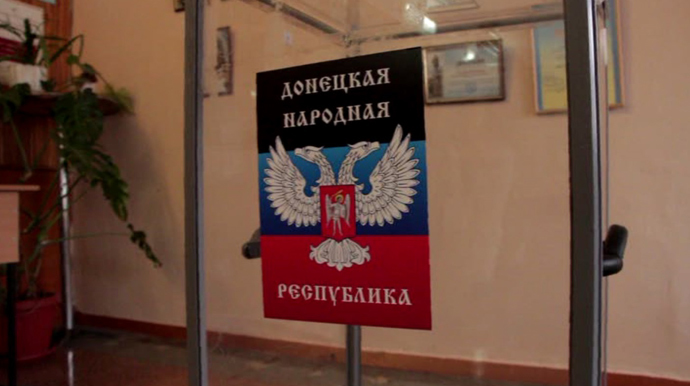 "The locals cut these tanks into pieces and sold them as scrap metal," I was told by an official in the Donetsk administration. "There aren't many jobs today so we didn't have to spend budget funds on a post-war cleanup campaign. You can leave it to the people."
Donetsk now looks like a ghost town. The avenues are empty, shops and cafes closed. The traffic lights still work but cars are few and far between. Donetsk has been virtually empty for the past six months. And gunfire is still heard occasionally, coming from the airport; the fighting for this strategic site continues.
Until the 2014 debacle, Donetsk used to be a campus city, with quite a large presence of international students. Even in May you could see dozens of African and Asian youths in the city center. Today, it's mostly the elderly wandering along with bags of food, and you might see a couple of bums having a drink and a snack on a boulevard.
Militia fighters are seen coming from duty or going to their positions. Young mothers with babies or teenagers have apparently disappeared.
A military vehicle is coming our way, with some metal structure on top of it. "It's a machine gun," says the driver, responding to my baffled look. The vehicle makes a turn, and everyone goes about his or her business as if it were an ordinary city sight.
The flags of Russia and the Donetsk People's Republic fly on top of City Hall, which is no longer protected by barricades, sand bags and barbed wire.
I take a picture but a young bearded man in yellow shades comes up to me and asks to delete the photo. "You can't take a picture of the facade or anyone of the militia fighters. I was captured on your photo. So you now have to delete it," he told me.
Any time you come to the administration, you need to call the person you're visiting and hand over the phone to the guards. Each time they check your bag, they might just inspect its contents or weigh it, to be on the safe side.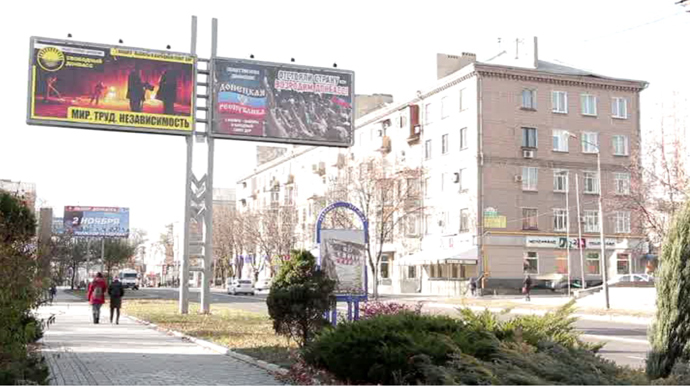 It proved extremely difficult to buy a local SIM card. You've got hairdressers, fast food cafes, small repair shops, kids and grocery stores open, but they have all run out of SIM cards. I finally managed to get one but couldn't top it up.
I polled cashiers, shoppers and passers-by about the election. They all say they will cast their ballot, but some don't know where to go. There's markedly less optimism than in May during the independence referendum, when people expected Russia to immediately take it into its fold as happened with Crimea. These hopes are long since dashed. But they are still sure they will become independent.
"People got through the hard times by relying on what they grow in their gardens. But the winter's coming, and will the elderly survive it?" wonders Natalya.
She remembers a 90-year-old woman who walked 33 kilometers from the city of Mariupol when she ran out of food, and a decorated World War Two veteran who broke down in tears when he was given a loaf of bread. Like many of the older generation here, he referred to the Kiev authorities as 'fascists.' And 'blood-thirsty oligarchs,' adds the younger generation.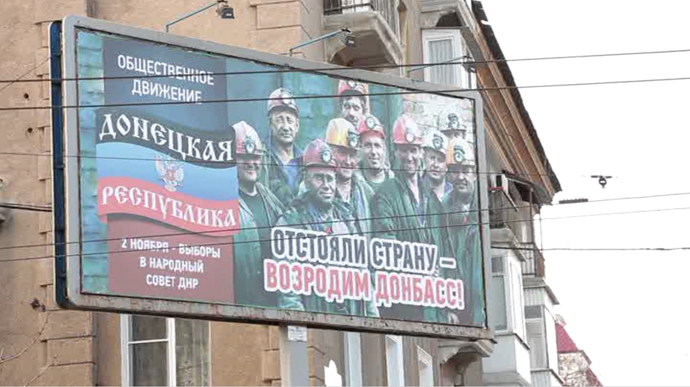 The head of the local team of 50 volunteers gets an incredible 400 dollars a month! He shares half of it with his team who deliver humanitarian aid to the retired. "There are no jobs. People have not seen pensions or child allowances for four months. There's no coal left for the winter, most of the mines are shut down. We had a nurse recently who fainted – she simply didn't have enough to eat," adds the woman. "Is there a hope? We hope it can't get worse, and we can sort it out somehow."
What are they going to come up with this time? Russia is sending its humanitarian aid, and local oligarch Rinat Akhmetov's Foundation is helping, too, but it's just a drop in the ocean for Donbass with its multimillion population.
Whenever you talk to people, you cannot avoid talking about the roots of the conflict between Donbass and Kiev. Some think that the seeds of the conflict have been diligently sown for a long time, and it took a while for them to grow. Others believe that the conflict was instigated by the rich bickering with one another, and over the gas issues with Russia. Still others talk about geopolitical interests.
"We are not Russians or Ukrainians – we are people of Donetsk. Russia is like a big strong brother to us, and Ukraine is like a gentle sister. We want to have two official languages. We studied Ukrainian, and we want our children to study both Ukrainian and Russian. It will do you no harm to learn languages," say the young.
Those who remember the Soviet era, dream of restoring the USSR. Literally.
But for everybody the realities of war are hard to put up with.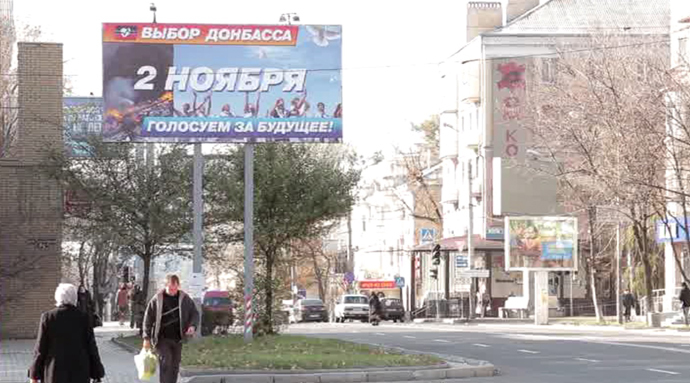 Daria Morozova is responsible for all humanitarian matters from the prisoner swap to the body count. Every month she submits reports about the numbers of dead. According to her, by the end of October, 1,724 people, including 267 women and 24 children, had been killed since March 2014.
In Kiev, I met several people who told me that the rebels bombed themselves. They were not kidding.
A doctor in a hospital told me that he got used to electricity blackouts, to artillery shells flying into the exam room and to the new types of surgery they have to do. "But I still cannot get used to Ukrainian jets roaring over residential neighborhoods," says the surgeon.
The curfew starts at 11 pm and ends at 5 am. As soon as it gets dark, the streets empty. Lights are on in one apartment out of ten.
"Who should you vote for? For our commanders!" said an older teacher, walking along with his wife. Their two sons are fighting in the war. They are closely watching what is going on and when they talk about it, they don't talk about politics. Since the ceasefire began, the militia forces have liberated 38 localities. "While they keep bombing us, we are slowly pushing them back. These elections are simply a declaration of our independence."
Jene Flight, Donetsk