Clashes at German embassy in Rome over ThyssenKrupp plans to cut jobs (VIDEO)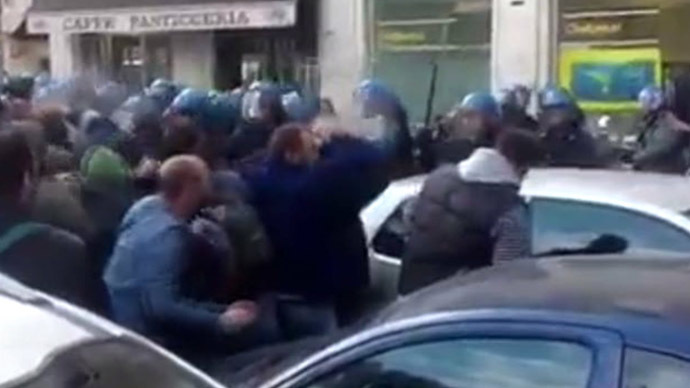 Riot police clashed with steelworkers at the German embassy in Rome after a protest over a German metal giant's decision to sack over 537 workers at its newly purchased Italian plant.
Several hundred activists, including workers from the Acciai Speciali Terni (AST) plant in Terni, in the Umbria region, marched through the streets of Rome to oppose ThyssenKrupp's lay-off plan, which is aimed at cutting costs by €100 million a year.
Police and the organizers differ in their accounts of what exactly triggered the violence shortly after a delegation of workers met an embassy official.
Maurizio Landini, head of the metalworkers' Fiom union, said: "As soon as we started our march, we were charged without provocation. I too received blows from police. Some of us ended up in the hospital. It's not ending here."
Police denied charging the protesters and said they had to use force when the demonstrators tried to storm through their cordon and occupy the Termini train station.
Three people were taken to hospital in the wake of the clash, according to police. Organizers of the action said as many as five of them, both workers and union officials, were injured.
Obwohl dt Botschaft in Rom involviert, kein Interesse in dt Medien an eskaliernedem Protest gegen ThyssenKrupp #ASTpic.twitter.com/1PJxURUej5

— Loretta (@laRossa05) October 29, 2014
The confrontation happened just days after a massive protest rally in Italy organized by several trade unions. The rally against Prime Minister Matteo Renzi's job sector reforms, which would make firing workers easier for employers, drew as many as 1 million people, according to organizers.
With job security remaining a painful issue in the country, which is suffering the worst unemployment rates since 1970, the sympathies of other unions are with the steel workers in the Wednesday clash.
"The government should give answers not bludgeon workers," said Susanna Camusso, head of the CGIL, Italy's largest trade union. "Half the country is going from bad to worse and if people protest they are charged at by the police."
V Rimu je danes potekal protest delavcev AST proti odpuščanju (foto via @repubblicait). #Italija#ThyssenKrupp#Fiompic.twitter.com/HkWuVYshAo

— dejan (@naobrobju) October 29, 2014
The government meanwhile is engaged with the steel plant owners in an attempt to bargain for a last-ditch compromise. Industry Minister Federica Guidi told Italian lawmakers in the wake of the incident that she is aiming at a deal that would limit the lay-offs to 290 over the next two years in exchange for energy subsidies to the steelmaker. The company can also cut costs by shutting down one of the plant's two kilns and shifting some workers into "cold" finishing processes, she added.
"I have not given up on the possibility of a compromise," Guidi said.
Italy's steel industry, which is second-largest in Europe after Germany's, has been damaged by the global economic slowdown, which saw demand for metal plunge.
You can share this story on social media: