Ukraine's Opposition Bloc scores 9% of votes despite winning southeast, slams elections as rigged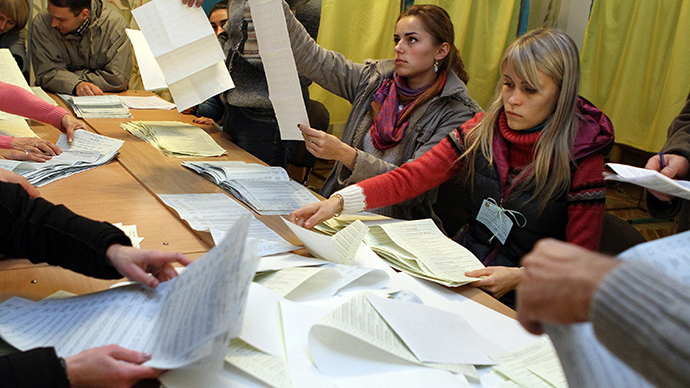 Ukraine's Opposition Bloc, which won 9.36 percent in the nation's parliamentary elections, says the vote was rigged. It is calling on President Poroshenko to investigate violations, adding that skewing results will not help efforts to "unite the country."
With 98.02 percent of ballots having been counted, Prime Minister Arseny Yatsenyuk's People's Front party is ahead of its rivals, with 22.16 percent. President Petro Poroshenko's party is only slightly behind, with 21.82 percent.
The Opposition Bloc, which campaigns for a peaceful solution to the Ukraine crisis, has received 9.36 percent, mostly from voters in southeast Ukraine – Kharkov, Lugansk, Zaporozhye, Dnepropetrovsk, and Donetsk Region – where the balance has shifted away from the pro-EU trend, which is widely supported in other regions. The vote was only possible on territories controlled by Kiev's troops.
However, most of the east is still under rebel control. Voting did not take place there, as the self-proclaimed People's Republics of Donetsk and Lugansk plan to hold their own parliamentary elections on November 2.
The snap elections, announced by Poroshenko on August 26, gained attention across the world, including from the US and Russia. OSCE monitors said the October 26 elections were ''free and fair."
However, the Opposition Bloc says it counted at least 22 violations during the election. The alleged violations were listed in a letter addressed to President Poroshenko on Wednesday.
"The way these elections were held questions the means to achieve the indicated goals. Before the voting day the scale of all possible violations – intimidation of candidates and activists, beating of the opposition members, pressure on media, abuse of administrative resources – already reached a point where it significantly affects the integrity of the campaign," the letter stated.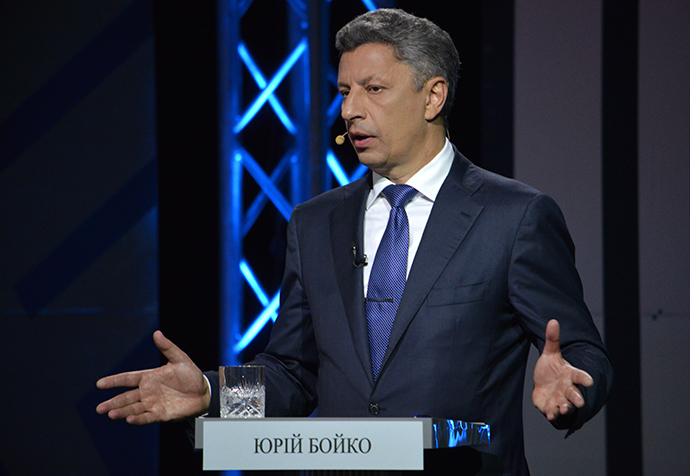 READ MORE:'Almost lynching': Radicals attack Ukrainian officials, throw into trash bins
The party members claim there have also been "systematic attempts to distort the results of the vote," which undermine the legitimacy of the future parliament, Vekhovna Rada.
"It is essential that people in all regions of Ukraine have the defenders of their interests in the national executive authorities," the authors of the letter wrote.
READ MORE:'Over my dead body': Defiant Ukrainian MP beaten by nationalist mob (VIDEO)
According to the Opposition Bloc, election results in Donetsk and Lugansk regions are being deliberately delayed, which may hamper the peace process in the east.
This "directly harms your efforts to bring peace back to Donbass, to restore the unity of our country," the Opposition Bloc said. "Dirty rigging of voting will make it impossible for our joint efforts to unite the country."
You can share this story on social media: