Stunning! 8,000 light balloons re-enact Berlin Wall path for 25th anni of its fall (VIDEO)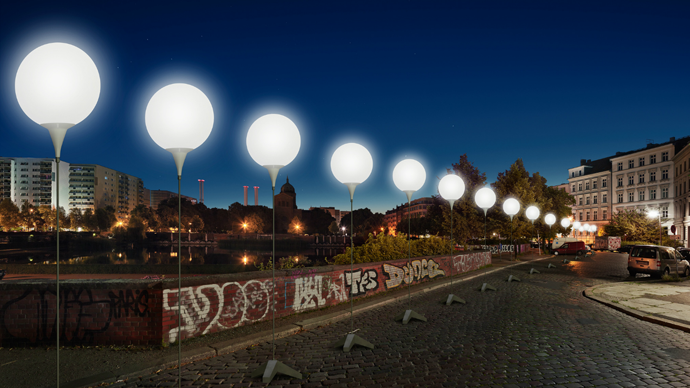 For the 25th anniversary of the fall of the Berlin Wall, German artists will line up 8,000 balloons along its central stretch. On November 9, the date when East Germans were first allowed to freely walk to West Berlin, the balloons will soar into the sky.
"There is almost nothing left of the Wall in Berlin now, so we wanted to bring back a physical reminder of it," Christopher Bauder, one of the two creators of the Border of Lights project, alongside his brother Mark, told the German edition of Vice.
"But we wanted this to create a contrast to the size, weight and hardness of the former Berlin Wall. So, we chose something very lightweight, which consists only of light and air."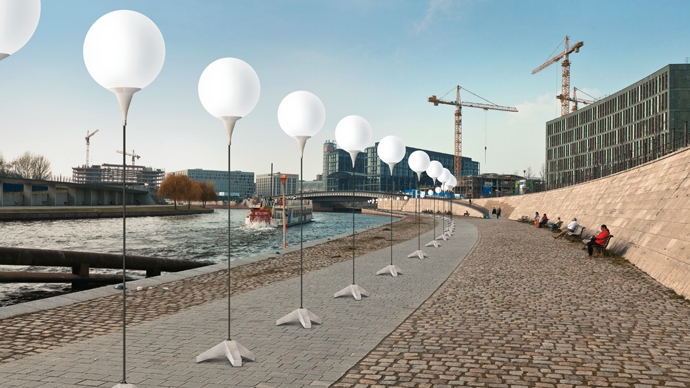 The creators say they were not only interested in placing the lit-up balloons in the iconic places – like Checkpoint Charlie – but also across ordinary, unmarked parks and streets, to show just how unnatural the division was and how life has normalized since.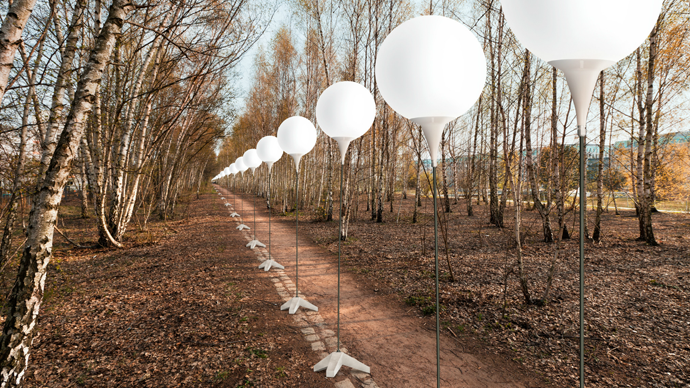 "We place ourselves in solidarity with those who have raised their voices for freedom, democracy, and human rights back then as well as now. And we take a look at the contemporary world in which Berlin, after twenty-five years, has become a place of creativity, openness to the future, and other countries," Governing Mayor of Berlin, Klaus Wowereit, said of the impending display.
Alongside the 15.3 kilometer-long balloon Wall, which will go on display November 7, there will be stories of its erection and grim existence. Put up by East Germany in 1961 to stem the flow of citizens into the West, it was successfully breached by an estimated 5,000 people over its lifetime. Thousands more were arrested and 136 lost their lives during failed escapes – shot by soldiers, trapped in barbed wire, and mauled by specially trained dogs.
On November 9, donors to the project and people with a personal connection to the Wall will tie messages to each balloon, and simultaneously release them into the air, creating a spectacular display over the city.
"We hope to be able to enjoy the event in a private place with our team. To take in that quiet moment when your work disintegrates," said Bauder, who was also involved in the 20th commemoration of the fall of the Wall, five years ago.
The 23-kilogram stands, filled with water to prevent souvenir-seekers from removing them before time, will be cleared the next morning. The balloons – which have all been made from biodegradable materials – will land a few days later and will be collected and recycled by the Bauders' crew
You can share this story on social media: