Smog couture: Facemasks on catwalk at China's fashion week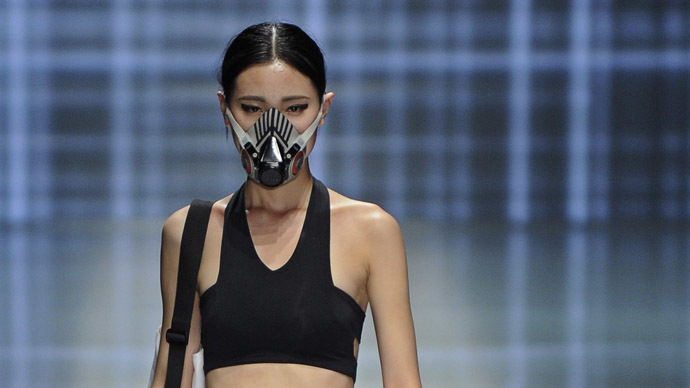 China's smog problem has infiltrated haute couture. One fashion designer has embraced the country's ongoing problems with pollution, incorporating the need for face masks into their Spring/Summer 2015 sportswear collection.
Yin Peng's collection was paraded at China Fashion Week, currently being held in Beijing, with models parading down the catwalk wearing face masks.
The models looked determined not to let the conditions of the city in which the fashion show was held get to them.

The masks varied from full-face cover, as with a fencing mask, to angular lightweight mouth-covering designs to compliment running gear.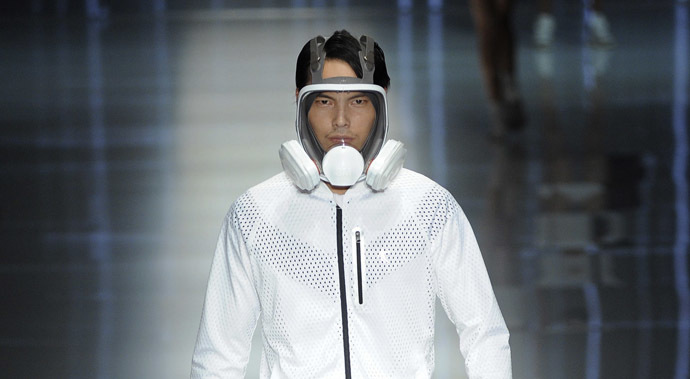 The designs also included more casual pieces - rounded masks to go with slouchy hooded designs, safety goggles for men, and futuristic full-on gas masks with bright pink mouthpieces.
China has been suffering from a national smog problem for several years, with the worst affected areas being Beijing and with severe episodes also affecting the municipalities of Shanghai and Tianjin throughout 2013.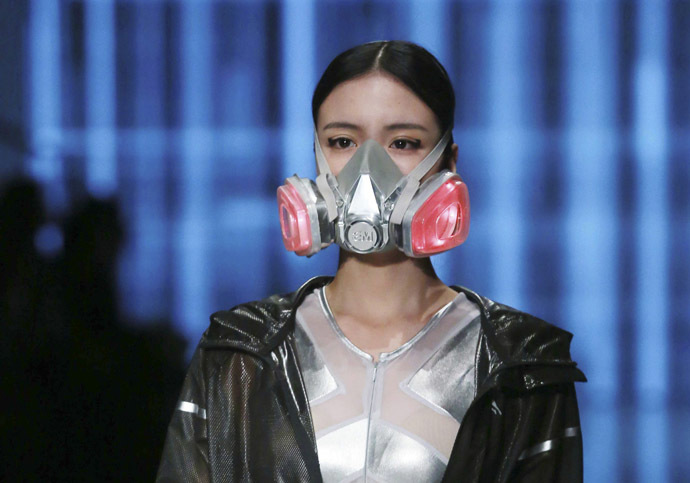 In February last year, Japan was subjected to clouds of suffocating smog wafting over from China, just one month after Beijing air pollution reached beyond the permissible levels of pollution on the local environmental center's scale.

The same month, a half-naked participant was seen jogging in the "Guangzhu (naked) Run", carrying along with him an enormous gas mask – which may even have served as inspiration for the collection.

At the time, Beijing residents were recommended to stay indoors by local authorities.

Earlier this month in Beijing, smog readings soared past the 400 mark on more than two occasions. Any reading which exceeds 300 is deemed hazardous.
Another run took place mid-October. The People's Daily, the official newspaper of the Chinese government, cautioned athletes against participating in such bad conditions, reporting that Beijing's air was "not suitable for outdoor activities."
READ MORE: Smog marathon: Beijing runners put on masks for foggy race
Major world leaders are on track to host the APEC economic summit later next month, with China planning to implement the same anti-pollution measures that were employed for the 2008 Olympics, such as cutting the output of contaminants in the city by 40 percent.
You can share this story on social media: