Netanyahu 'chickenshit' & 'coward': US officials go tough on Israeli PM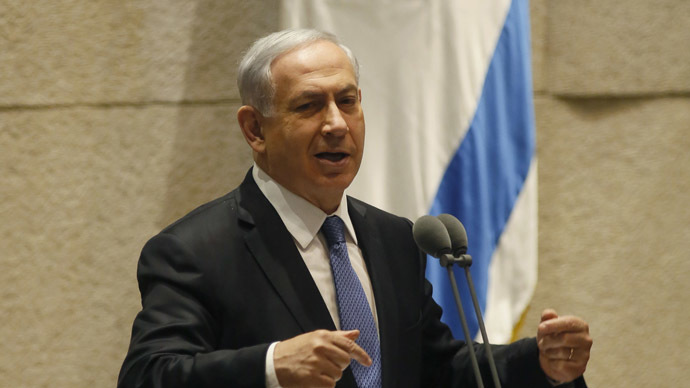 US-Israeli relations have sunk to new lows after Obama administration officials were cited calling Israeli Prime Minister Benjamin Netanyahu a "chickenshit" and "coward" engaging in political posturing, instead of efforts at Middle-Eastern de-escalation.
The comments were delivered in a conversation with The Atlantic's Jeffrey Goldberg on condition of anonymity. To many they symbolize the next step in a "full-blown crisis" of relations between the two, primarily over Netanyahu's relentless settlement-building in East Jerusalem and the West Bank, and the Iranian nuclear issue.
"The thing about Bibi is, he's a chickenshit," said one official, referring to Netanyahu by his nickname. "The good thing about Netanyahu is that he's scared to launch wars. The bad thing about him is that he won't do anything to reach an accommodation with the Palestinians or with the Sunni Arab states," he continued.
Goldberg keeps a running list of all the things US officials have ever called Netanyahu in interviews, and it's not small. "Aspergery" popped up, among other things. But it is the first time high-ranking officials have expressed their views of the Israeli leader in such a "gloves-off manner."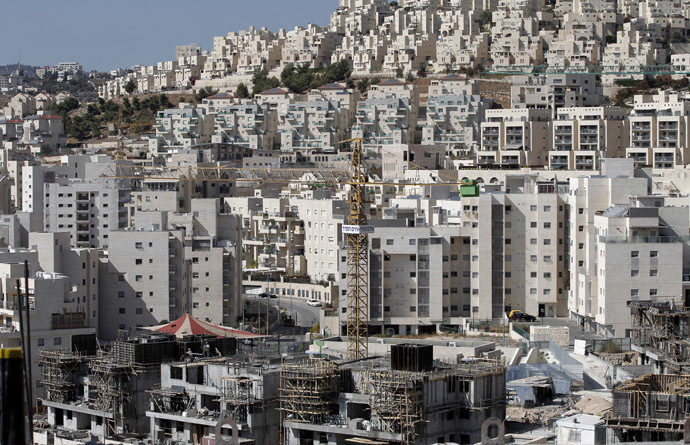 Netanyahu has repeatedly said he will not halt construction of 1,000 new housing units, which are considered illegal under international law, when built beyond the established 1967 'green line.'
READ MORE: Netanyahu says settlement criticism 'against American values', scores US scorn
Similarly, the Israeli leader is opposed to making any deals with Iran, and has recently warned in another conversation with The Atlantic that he intends to speak directly to Congress and to the American people, because President Barack Obama is unwilling to recognize his stance.
One of the officials interviewed by Goldberg voiced a "red-hot anger" at the Israeli leader for what he sees as severely undermining the peace initiative that Secretary of State John Kerry was so meticulously trying to build.
The other continued: "The only thing he's interested in is protecting himself from political defeat. He's not [Yitzhak] Rabin, he's not [Ariel] Sharon, he's certainly no [Menachem] Begin. He's got no guts."
Goldberg did not elaborate when exactly he recorded the interviews, only that they were done "the other day".
"Netanyahu's government has in recent days gone out of its way to a) let the world know that it will quicken the pace of apartment-building in disputed areas of East Jerusalem; and b) let everyone know of its contempt for the Obama administration and its understanding of the Middle East," Goldberg says, explaining his own view on things.
Netanyahu reacts: 'I get attacked because I defend the State of Israel'
The Israeli PM addressed the remarks directly, though usually Israeli leaders do not respond to comments made anonymously.
"Our supreme interests, chiefly the security and unity of Jerusalem, are not the main concern of those anonymous officials who attack us and me personally, as the assault on me comes only because I defend the State of Israel," Netanyahu said in opening a memorial ceremony in parliament for an Israeli cabinet minister assassinated by a Palestinian in 2001.
"Despite all of the attacks I suffer, I will continue to defend our country. I will continue to defend the citizens of Israel," he added.
Meanwhile, White House Press Secretary Josh Earnest said the anonymous officials' remarks do not reflect the US position or Barack Obama's views.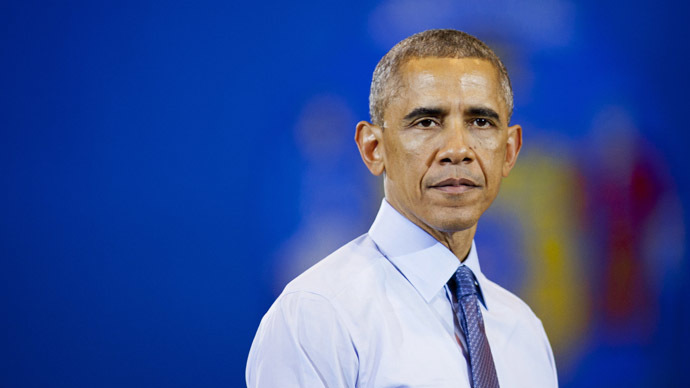 Earlier promises by Netanyahu to strike Iran if it doesn't stop enriching uranium have had everyone in fear of a new world war, but, as one official in the interview said, "it's too late for him to do anything… two, three years ago, this was a possibility. But ultimately he couldn't bring himself to pull the trigger. It was a combination of our pressure and his own unwillingness to do anything dramatic. Now it's too late."
This mood is shared by other US officials, who, according to the interviewees, feel much easier about negotiating with Iran now that they think Netanyahu won't carry out his strike threat.
These latest comments are part of the tit-for-tat opinion-trading that has been resounding over contentious issues, and have already aroused the criticism of the Israelis – most notably, the pro-settler Jewish Home party leader, Economy Minister Naftali Bennett, who insisted that "serious curses such as these towards the prime minister of Israel are harmful to millions of Israeli citizens and Jews around the world."
"If what was written is true, the current government is planning to throw Israel under the wheels of the bus. I call for the US government to renounce these provocative insults and reject them out of hand," he said, as cited by The Guardian.
You can share this story on social media: