Gorbachev: Russia, West can find common language in shared challenges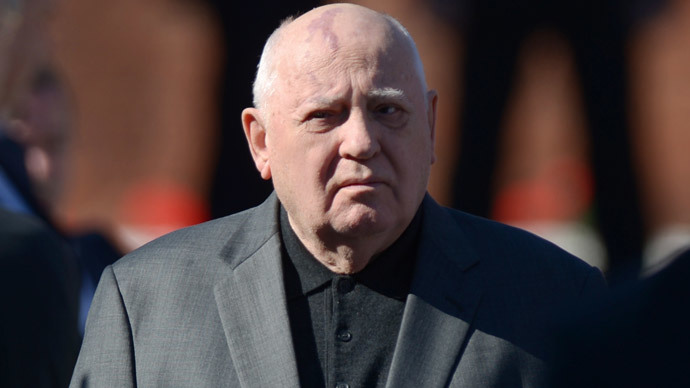 Former Soviet President Mikhail Gorbachev has warned Western and Russian leaders against dragging the world into a new Cold War, adding that the two sides can find a common language through their shared challenges.
Speaking to Rossiyskaya Gazeta ahead of the 25th anniversary of the fall of the Berlin Wall, Gorbachev said that he is against any walls between nations.

To end the current standoff between Russia and the West, he said the sides must "leave the logic of mutual accusations and sanctions behind."

The former Soviet leader believes that Russia has already done so by not responding to the latest round of Western sanctions.

"It's now our partner's turn," he added, suggesting the West should drop the idea of so-called "personal sanctions."

"How can there be a dialogue if one you punish the people who take decisions and influence the politics? You have to talk to each other," the Nobel Peace Prize laureate stressed.

"One must not give up. One must not get dragged back into a new Cold War."

According to Gorbachev, one of the reasons behind the current European and global political crisis is the West's reluctance to take Russia's position and interests into account.

He said the West has a history of praising Russia verbally – especially during Boris Yeltsin's rule – while not actually taking it seriously.

"First of all I mean NATO expansion, the missile defense system deployment, the actions of the West in the regions that are important for Russia (Yugoslavia, Iraq, Georgia, Ukraine). They basically say: It's none of your business."

But Gorbachev is convinced that both Russia and Western countries face more shared challenges than divisions. Threats such as the Ebola epidemic and the fight against Islamic State militants, as well as poverty, migrations, and ecological problems, can only help bring the sides closer together.

"Shared threats to our security have not disappeared. In the face of shared challenges, we can again find a common language. It won't be easy but there is no other way," he told the paper.

Gorbachev, who is half Ukrainian, said he believes the problems between Ukraine and Russia can be solved.

"Our peoples won't break up completely, I believe. We are too close to each other in all aspects," he said.

But he admits that tremendous damage has been done to the once brotherly relations between the nations.

"The [two countries'] leaders – President Vladimir Putin and President Petro Poroshenko – now bear great responsibility. They should set an example."

Though Gorbachev is praised around the world as a great democracy advocate, he remains a controversial figure at home. While some respect him for the crucial reforms he brought, others blame him for the break-up of the Soviet Union and the crises and conflicts that ensued.
You can share this story on social media: