Philippine fury at US Marine's hate crime against transgender Filipino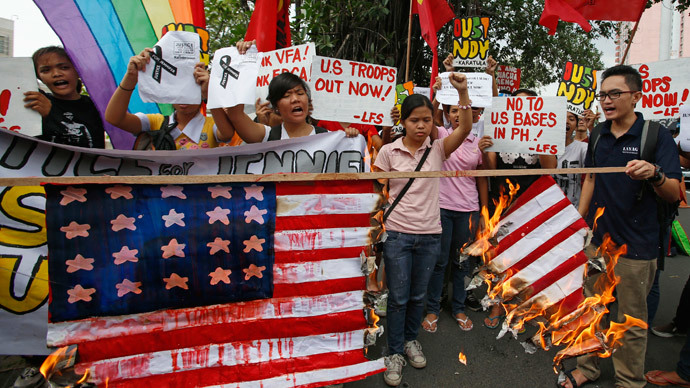 Philippine activists have burned a US flag as they protested at the Manila embassy on Tuesday after what they termed a hate crime committed by a US Marine against a transgender Filipino. Activists demand the Marine be handed over.
The victim, 26-year-old Jeffrey Laude, was apparently left strangled and drowned next to a toilet bowl in a motel room in Olongapo city, northwest of Manila Bay.

On Tuesday, some 40 Filipino activists took to the streets, demanding the exodus of US troops from their archipelago and shouting "US troops out now!" A replica of the Stars and Stripes was set alight as the demonstrators approached the US embassy, reported AP.

"This is just so abominable. It's one of the worst hate crimes I've seen," Corky Hope Maranan, leader of a group of transgender and lesbian Filipinos, told the agency.
Police have stated that the person responsible for Laude's death may have become aggressive after finding out Laude was transgender. According to the Daily Mail, Laude went by the name Jennifer. However, there is not yet clarity on the matter and conflict could have been sparked on other grounds.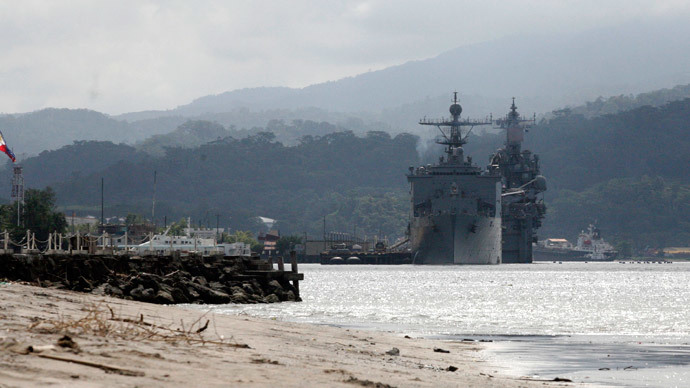 "If he remains in US custody, certainly he can escape from our justice system again. We don't want another Daniel Smith," Hops stated.

Smith was sentenced to life imprisonment after raping a Filipino woman in 2005. However, his conviction was overturned in 2009 and he was allowed to leave the country.

While a suspect in the Laude case is being detained by police, his fate is as of yet unclear. The US Marine is currently under watch on the USS Peleliu in the Subic Bay free port as the joint investigation between the US and the Philippines unfolds.

Military chief of staff Gen. Gregorio Pio Catapang expressed disappointment as the joint exercises that had been taking place had been intended in the spirit of cooperation, and murder somewhat undermines the process.

"We're alarmed and hurt because the victim was a fellow Filipino," Catapang told a news conference. "We have to give justice for his untimely death." Catapang added that "this will not affect our relationship with the United States."

The US and the Philippines have been attempting to forge stronger ties in the context of Chinese territorial claims in the South China Sea. A greater level of US military access was granted in April after the signing of a fresh accord.
You can share this story on social media: