US sanctions against Russia is economic terrorism – Morales to RT
US sanctions against Russia can be considered as economic terrorism, said acting Bolivian President Evo Morales in an interview to RT. He also revealed his secret job aspiration.
"This [US sanctions against Russia] is genuine economic terrorism. The country that thinks it can dominate the world is making a mistake," says Morales.
"I think that US President Barack Obama doesn't' know what is going on in other countries and continents."
According to Morales, a single country "cannot rule in this multipolar world," as all the issues should be "settled in cooperation among the states; that's what the UN is for."
"Thus I condemn and reject these kind of actions [US sanctions against Russia]," said the president, adding that Bolivia shares "the struggle of the Russian people."
"I express my solidarity with Russian people and their President [Vladimir Putin]," he added.
Morales recently coasted to victory in the country's presidential elections. He won the third term, securing 60.5 percent of the vote according to a count released by local TV channel ATB.
"This win is a triumph for anti-imperialists and anti-colonialists," Morales announced from the balcony of his palace to thousands of supporters. He dedicated his victory to Cuba's ex-President Fidel Castro and the late Venezuelan president, Hugo Chavez.
Morales took office in 2006, and after the latest victory will remain the state leader until January 2020.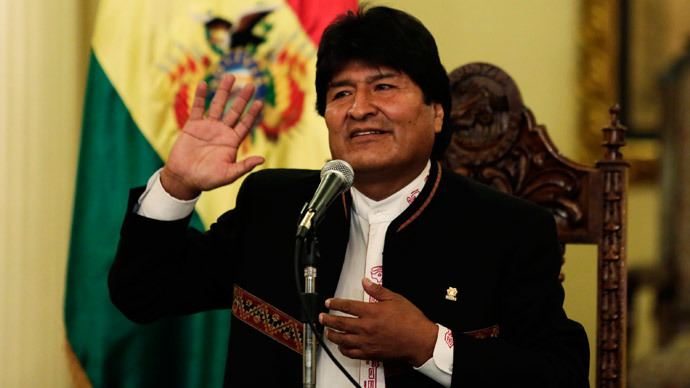 Under Morales' term the number of Bolivians living in extreme poverty reduced and he delivered economic growth of more than 5 percent a year.
In an interview with RT, he noted that one of the main political purposes for Bolivia will be fighting poverty.
"I hope that nobody will have the childhood I had: without electricity, telecommunications, drinking water," said Morales, adding that he often drank water from a pond when he was a child.
According to the Bolivian president, the country has achieved in just nine years what it hitherto couldn't achieve in 180.
"I want to speak of my experience. How important it was to start from the bottom: poverty. That's why I always say that my nation is my family. Homeland is my soul. Bolivia is my life."
'I would like to be a waiter'
Morales also revealed to RT his secret dream to be a waiter and to live an ordinary life.
"I would like to have my own restaurant, where I would work as a waiter. Yes, I really would like that," Morales said.
He admitted that he is not an expert cook, but he has a lot of acquaintances, now mayors, who in their past were cooks.
"Imagine, ex-mayors cook, and an ex-president serves the table. This won't be an expensive place but we will charge those who want to take a photo with the ex-president-waiter," he said.
After his presidential term he said he wants to go to his homeland, the city of Cochabamba in central Bolivia and be a farmer and spend more time with his friends.
Morales is the country's first indigenous leader; ethnically he is Mestizo and thus has Spanish and Native American heritage. Much of his ancestry came from the indigenous Aymara people, a nation in the Andes and Altiplano regions of South America.
He had seven siblings and as his family were farmers; Morales used to help them to grow crops.
You can share this story on social media: