Israel, Palestine draft joint Ebola response plan
Published time: 12 Oct, 2014 22:26
Edited time: 12 Oct, 2014 22:30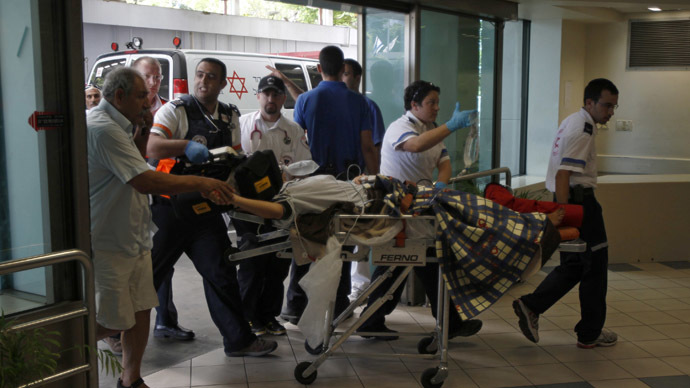 To draft a joint action plan to prevent Ebola, Israeli and Palestinian officials held a meeting over weekend, while Tel Aviv is introducing hospital drills and setting tighter border controls to curb the threat of the deadly virus.
In a series of efforts to prevent the Ebola virus from spreading into Israel, COGAT, the Defense Ministry unit responsible for Palestinian civilian affairs, announced that Israeli and Palestinian officials met to discuss an action plan.
"During the meeting, updates were exchanged between the parties, and transfer of information was agreed upon by way of additional meetings to take place in order to further track the issue," said COGAT.
The discussion focused on a number of issues including special training in advanced epidemiology for Palestinian and Jordanian doctors, a source familiar with the matter told AFP.
"There are contacts with the Israeli side regarding this within the context of WHO's instructions on fighting this virus, which is a global task," Assad Ramlawi of the Palestinian health ministry told AFP. "There are common crossings and we have contacts on this, nothing more or less."
READ MORE:Texas health care worker tests positive for Ebola, first to contract disease in US
Israel has also introduced questioning at the border for passengers arriving from Sierra Leone, Guinea, and Liberia, according to Prime Minister's Benjamin Netanyahu office. The announcement comes after the Israeli PM held an emergency meeting with government officials, the second high-level emergency meeting on the subject this week.
"The State of Israel is prepared to bar, as much as possible, the entry of Ebola patients into its borders, as part of the broader efforts to protect the borders from illegal infiltrators and terror," Netanyahu said in a statement following the session with health, military, police, border crossings officials.
"This is a global epidemic and we are cooperating with other countries, and in addition to protecting our borders, we are taking a series of steps to isolate patients, if they come, and of course to treat them in our healthcare systems."
The announcement was made despite the lack of an actual threat as no confirmed cases have surfaced either in Israel or Palestine. Yet the head of the country's largest air hub, Ben-Gurion Airport, Shmuel Zakai, said border control placed "a very large deployment" to prevent those with potential virus from entering undetected.
Meanwhile, Professor Arnon Afek, director-general of the Health Ministry, said the ministry is working directly with the hospital staff to tackle the potential threat of an outbreak. Afek also stressed that his staff are working with experts around the world to track developments of the virus, which so far has claimed more than 4000 lives in West Africa, Israel National News reported.
"We want to see that the hospitals, which are entrusted with the treatment of such cases, are also prepared for scenarios of Ebola — from identification, hospitalization, laboratory examination and so on," Afek told Haaretz, as representatives from Israel, the Palestinian Authority, and the World Health Organization met Saturday evening to discuss cooperation.
The Health Ministry is also planning to conduct hospital drills to help potential patients in need.
"We have contacted some hospitals and instructed them to hold internal drills. In two weeks we intend to hold more drills of our own to check their preparedness because we believe we should be prepared for any eventuality," Afek said. "We should remember that Ebola is not a very contagious disease, and not many Israelis visit those countries."
While not too many Israeli's travel to Africa, on the receiving end some 43,000 African Christians have visited the country since the start of the year, according to the tourism ministry.
As of Wednesday, a total 4,033 people have died, out of a total of 8,399 registered cases in seven countries, the World Health Organization (WHO) said. For now, Liberia is the worst-hit of all the affected countries, with 4,076 cases and 2,316 deaths. It is followed by Sierra Leone, where there are 2,950 cases and 930 deaths.