Siege of Kobani: Insider video shows ISIS militants advance
As fierce fighting continues for the Kurdish city of Kobani near the Turkish-Syrian border, a video was posted online showing the advance of the jihadists. There are widespread fears the town's capture may result in a bloody massacre.
The video was posted online on Friday by a group connected to ISIS to show militants using rocket propelled grenades and sledgehammers while advancing inside the besieged city of Kobani.
As of Friday, the jihadists controlled 40 percent of the area.
READ MORE: ISIS now controls 40% of Kobani – top US official
The two-minute long clip shows the scenes of fight in the streets, militants changing dispositions and aiming fire. The jihadists are equipped with different kinds of weapons including tommy-guns and shotguns. AP reported that the video has been authenticated against known locations and events by regional experts.
AP cites a Kurdish official as saying that fighting was mainly taking place in the southern and eastern parts of the city.
READ MORE: Battle for Baghdad: ISIS now within 8 miles of airport, armed with MANPADS
Many Kurds in neighboring Turkey took part in protests appealing to the government to intervene and to let Turkish Kurds cross the border and participate in defense of the town. Despite airstrikes by the US-led coalition, the IS fighters advanced this week.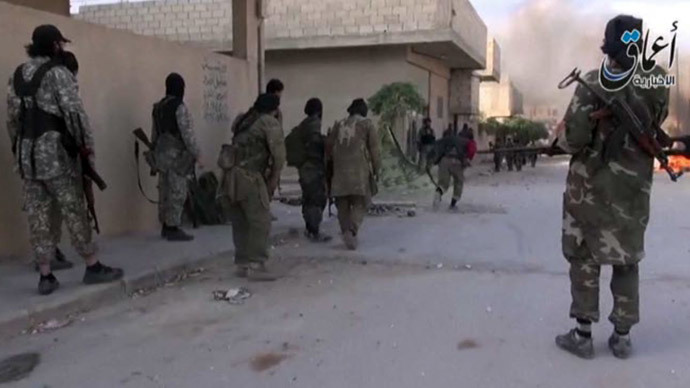 The Britain-based Syrian Observatory for Human Rights said the town's Kurdish fighters are being outgunned by the militants.
UN envoy to Syria Staffan de Mistura warned Friday that if Kobani falls to ISIS, thousands of civilians there would "most likely be massacred." He urged Turkey to prevent the slaughter.
"Do you remember Srebrenica? We do. We never forgot and probably we never forgave ourselves," de Mistura told journalists.
READ MORE: 1.8 million fleeing ISIS in deadly, life-threatening situation - UN
At least 500 people have been killed and more than 200,000 forced to flee into Turkey since the IS jihadists started an assault on Kobani in mid-September.
You can share this story on social media: