At least 5 police killed in suicide blast outside concert hall in Chechnya, Russia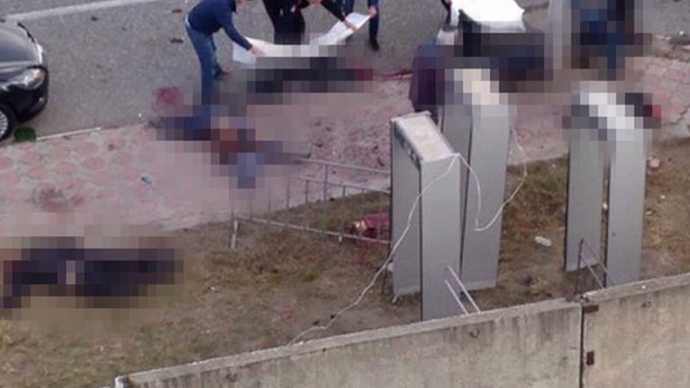 At least five police officers were killed and another 12 sustained injuries in Russia's Republic of Chechnya as they attempted to detain a suspected suicide bomber. The young man detonated an improvised explosive when police attempted to search him.
"According to the latest data, the blast killed five policemen, twelve others received wounds," a police spokesman said. Four police officers died at the scene, while the fifth later died of wounds at a local hospital.
The incident happened ahead of a concert dedicated to City Day in Grozny, which is home to over 280,000 people, most of them Chechens. According to the Internal Affairs Ministry, police forces noticed a suspicious man outside a concert hall.
"Police officers who were manning metal detectors at the entrance of the concert hall noticed a suspicious young man. When the police officers decided to check the individual, the man blew himself up," a local police officer told RIA Novosti news agency.
Arriving at the scene, the head of Chechnya, Ramzan Kadyrov, said the suicide bomber approached security forces and introduced himself as "a law enforcement staffer." Police still proceeded to search him, he added.
Kadyrov promised to find and punish those responsible for the explosion.
"I want to assure you that none of those who had the slightest connection to the bastard, at whose fault people were killed, will escape severe punishment," Kadyrov said on his Instagram page on Monday.
There were no immediate reports of civilian deaths or injuries, the Ministry said. The data on the injured however varies. Thus, a local hospital confirmed to RIA Novosti that a total of 10 people with wounds were admitted, but none of the injuries was life-threatening.
SUICIDE BLAST IN #GROZNY: Terrorist blows himself up ahead of concert on City Day http://t.co/mf1LzvUEo4pic.twitter.com/qLbPxsjQeJ

— RT (@RT_com) October 5, 2014
Despite local media initially claiming the suicide bomber survived, Russia's National Anti-Terror Committee said the man died along with the victims of the blast. Police identified him as a 19-year old local citizen, who appears to have left home six months ago.
"Apti Mudarov's whereabouts were not known even to his relatives," a spokesperson for Chechnya's law enforcement bodies told RIA Novosti adding that the suspect was supposed to have joined a gang and police were searching for him intensively.
Interior Minister Vladimir Kolokoltsev has ordered to posthumously award the four police officers who "have stopped a terrorist and did not let him come to a place, where a public event was to be held."
Russia's southern Republic of Chechnya, along with neighboring Dagestan and Ingushetia, has been facing the continuous threat of terrorism against the civilian population.
In April 2009, Russia announced the end of its decade-long counter-terrorism operation against militants in Chechnya. However, sporadic terrorist attacks inside the region and beyond continue.
In recent years the epicenter of violence has shifted from Chechnya to Russia's other mainly-Muslim North Caucasian republics of Ingushetia, Dagestan and Kabardino-Balkaria.