​'I told him not to go': Heartbroken Donetsk residents check morgues after shelling
Residents of Donetsk, a restive city in eastern Ukraine, have learnt to expect the worst, so the first place they go to look for their loved ones if they disappear is the morgue. After recent shellings, the grim trips are the new reality for the city.
Lyuba, 70, has come to look for her husband, who went to the shop and never returned home. The shop is in the Kievsky district, where the fatal shelling of a school and bus stop took place on Wednesday. The area is just south of the airport which has been seeing an increasing standoff between militias and Kiev troops.
"I told you not to go! Killed... By a bomb...," Lyuba found her husband, though cannot quite believe he is dead.
"Natasha?" the old woman phones her daughter in tears. "He's dead. I'm at the morgue."
Her husband, 76-year-old Nikolay, was among 13 civilians killed in the latest shelling, bringing the total death toll in the region to over 1,400 people.
The number is set to rise, the head of Donetsk's main morgue Dmitry Kalashnikov told RT.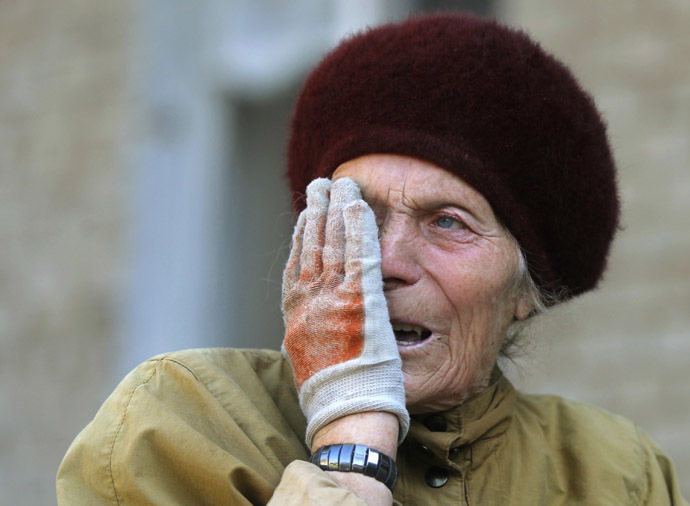 "Twenty bodies have arrived at the morgue over the past 24 hours. Among them are 11 civilians, who were killed by shell explosions. I find it hard to call this a ceasefire," he said.
"Last week there were many civilian deaths, and I'm not even counting the soldiers," Kalashnikov added.
It comes as the self-defense forces fight with the Ukrainian army over the city's airport, with black smoke coming from the site and the sounds of heavy artillery heard.
As the standoff continues, a Red Cross employee was killed in artillery shelling near the Donetsk office of the organization on Thursday. Russia is calling for a thorough and objective investigation into the matter.
It comes on the backdrop of the ceasefire brokered on September 5 in Minsk. On Friday, the EU said it is concerned that the truce may get breached and called to respect it.
"We are worried that the truce has been breached. We count on the truce to be respected because it is a necessary condition allowing the peace process to move forward, the OSCE and the Red Cross employees to work there," Soren Liborius, the head of EU information department, said.