​Frigid fighting: Russian Arctic war games top off new base voyage
The Russian Northern Fleet convoy, which delivered troops and hardware to a rebuilt base in the Arctic, conducted fire drills before going home to test its resilience in the hostile frosty environment.
RT's Murad Gazdiev witnessed the exercise staged near Kotelny Island, the first in a string of new military bases that would help Moscow project its power in the resource-rich region.
The goal of controlling the Arctic militarily may be trickier than it sounds. The harsh conditions take their toll not only on men, but also on the equipment.
Fuel, engines, ammunition and even hulls have to be designed specifically to function in sub-zero temperatures and withstand constant tear and wear.
"Our main objective is research and evaluation of conditions in the Arctic and the suitability of our weapons and equipment this far north," said Captain 1st Class Vladimir Kondratov, commander of the surface ships group of the Northern Fleet.
The drills were meant not only to test the destroyer Admiral Levchenko, the flag ship of the expedition, but also the new troops on the ground. They fired a cruise missile from Kotelny Island to demonstrate their targeting skills while the ship crew showed how well they can intercept missile attacks.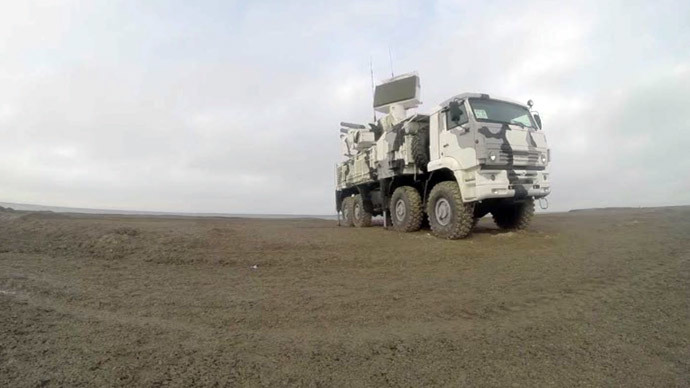 "Almost the entire ship's anti-air arsenal was put to use: missiles, turrets and deck guns," Gazdiev reported from the scene.
The next part of the mission is a 4,000km journey back to Severemorsk in northwestern Russia, where the Navy's entire Northern Fleet is stationed.