4th mass grave found in E. Ukraine, self-defense forces report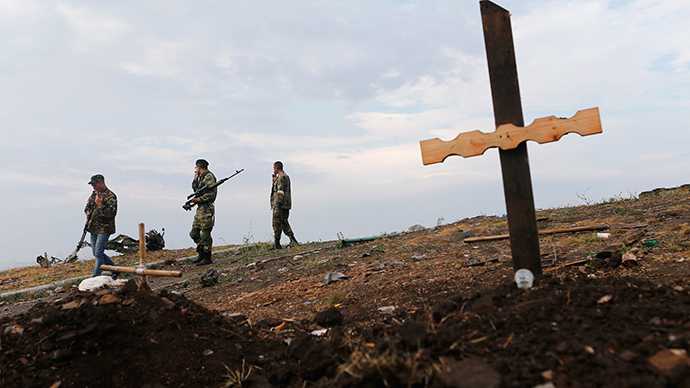 One more mass grave has been found in a village in eastern Ukraine, say self-defense forces. The site was located days after OSCE mission confirmed the discovery of three mass burial sites in areas recently abandoned by Kiev forces.
The new site of the suspected murders is near Nyzhnia Krynka village, not far from the town of Makeevka, self-proclaimed Donetsk People's Republic (DPR) First Deputy Prime Minister Andrey Purgin told ITAR-TASS. The number of bodies and their identities have yet to be determined.
Taped hands, gun wounds': RT witnesses exhumation of mass graves in E. Ukraine
"Another grave discovered ... How many bodies and how these people died will be established during the exhumation," Purgin said.
In the meantime, a group of international experts have already arrived at the area of mass burials in the village, a source from the DPR told RIA Novosti.
"About 10 international observers are currently working at the site of mass graves near the village of Nyzhnia Krynka," said the source, adding that the group includes experts from Russia and France.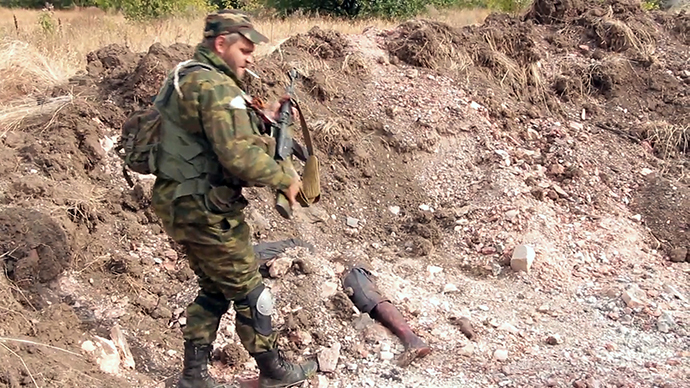 Several weeks ago, before a ceasefire was agreed, this area of Ukraine was under the control of the Ukrainian army and the National Guard's Aidar battalion. Earlier this month, an Amnesty International report has confirmed that war crimes including abductions, executions and extortion were committed by this particular Ukrainian battalion.
Crimes of Ukrainian Aidar battalion confirmed in Amnesty Int'l report
Last week RT crew went to investigate the previously discovered site where four bodies have been found buried in shell craters behind a burnt-out coal mine, days after the OSCE confirmed that three mass graves, allegedly with many bodies, have been found near Donetsk in eastern Ukraine.
I thought "enough dead bodies!" when we came across another burial site outside #Donetsk. Reality of war. E.#Ukrainepic.twitter.com/3kTEZPkUN0

— Maria Finoshina (@MFinoshina_RT) September 27, 2014
You can share this story on social media: