Car falls into monster 8-meter-wide sinkhole in Crimean road, 6 dead (PHOTOS, VIDEO)
Six people, including two children died after their car fell into a monster sinkhole in the middle of the highway near the Crimean capital of Simferopol. The hole appeared to be 6 meters deep and 8 meters wide.
The accident happened on the highway between Simferopol and the village of Nikolaevka on Saturday night, said the Emergencies Ministry's press service in Crimea. The car with eight passengers fell into the pit after the vehicle entered the unlit part of the road.
"A huge sinkhole six meters deep and eight meters wide was formed after the collapse," said the statement.
According to the medics, six passengers "received injuries incompatible with life." Among them were 3-year-old twins and a 16-year-old girl.
The rescue workers managed to save a one-year old boy and a 12-year old girl. The preliminary medics' reports say that a boy has a traumatic brain injury and he is in coma, while the girl has multiple fractures. Both kids are currently receiving emergency treatment.
At least 43 rescue personnel and 16 vehicles were involved in the rescue effort.
The experts are investigating the reasons of the accident.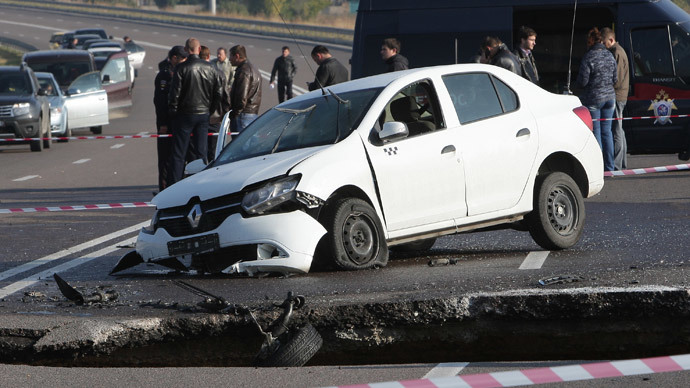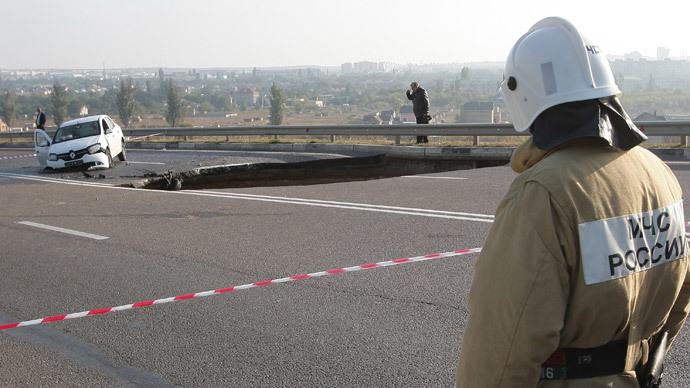 You can share this story on social media: