Revenge on Taliban? Afghan villagers hang 4 militants amid fighting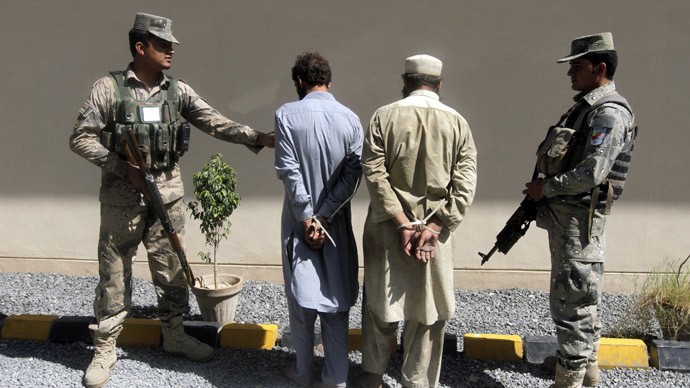 Afghan villagers in the troubled Ajristan district have hanged four militants on a tree after the Taliban rampaged through a village in the area on Thursday, killing over 100 people.
READ MORE:Taliban storms Afghan region kills 100 in days, amid incomplete power handover
The captured Taliban fighters were handed over to residents in Arzakai village in Ghazni province, provincial deputy governor Ahmadullah Ahmadi said.
It is yet unclear who delivered the men to the village residents and why they were executed.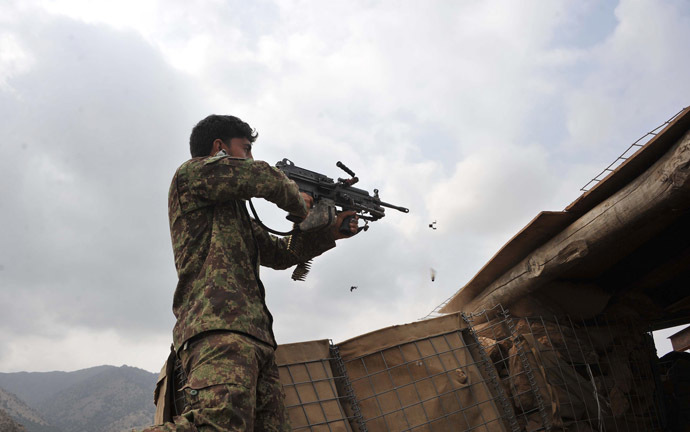 On Thursday night, over 700 Taliban fighters stormed the strategic Ajrestan district of Ghazni province, 220 kilometers southwest of Kabul, the country's capital. The militants killed more than 100 people, and 15 of them were beheaded.
Afghan Special Forces were deployed to the area.
On Friday, heavy fighting in districts of the Ghazni province was ongoing. In Ajrestan district a suicide car bomber rammed a police checkpoint.
"We have asked repeatedly for helicopters to evacuate the wounded, but so far nothing has been done," Ahmadi told reporters Friday.
Later Friday, Afghan army commando reinforcements supported by aircraft from the US-led military coalition managed to prevent the district from falling into the hands of the Taliban, according to Ahmadi.
However, heavy fighting continued Saturday, marking the sixth day of the battle between the militants and security forces in the crisis-stricken province.
Kabul is currently in the middle of an inconclusive power handover from Hamid Karzai to President-elect Ashraf Ghani. Ghani and his opponent, Abudullah Abdullah, signed a power-sharing deal over the weekend.
During his departure speech, Karzai said Tuesday that the US invaded Afghanistan in 2001 for "its own interests," and never really wanted peace in the region.
READ MORE:Karzai's farewell speech: US didn't want peace in Afghanistan
"War in Afghanistan is based on the aims of foreigners. The war in Afghanistan is to the benefit of foreigners. But Afghans on both sides are the sacrificial lambs and victims of this war," he told the AP.
For the last few years, Karzai has denounced US military strikes, many of which have caused loss of civilian life while wounding or displacing scores of others.
Independent estimates [http://costsofwar.org/article/civilians-killed-and-wounded] earlier this year suggest that at least 21,000 Afghan civilians have died since fighting began following the US-led invasion in 2001. The United Nations, meanwhile, says around 8,000 civilians have died from the US-Taliban conflict in the last five years alone.