Israel shoots down Syrian aircraft over Israeli-controlled airspace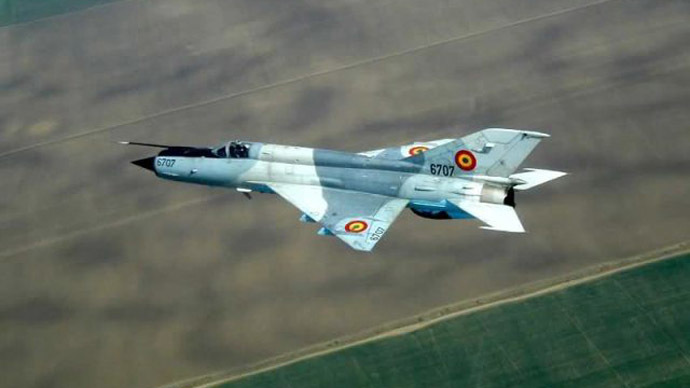 ​An Israeli Patriot missile shot down a Syrian aircraft that flew into Israeli-controlled airspace on Tuesday, Reuters reported, citing the military.
"Moments ago a Syrian aircraft infiltrated Israeli airspace. The IDF (Israel Defense Forces) intercepted the aircraft in mid-flight, using the Patriot air defense system," a military statement said. The type of plane was not disclosed.
Moment ago, a Syrian aircraft infiltrated Israeli airspace. IDF's Patriot air defense system intercepted the aircraft.

— IDF (@IDFSpokesperson) September 23, 2014
Israeli media are claiming that the downed aircraft was a Soviet-built MiG-21fighter jet.
Syrian state TV has confirmed that country's aircraft was downed by the Israeli Air Force.
Images have emerged reportedly showing two pilots ejecting from the shot plane.
Two Syrian pilots eject from their plane which was shot down by Israel. pic.twitter.com/0nESeqepeQ

— Syria Report (@SyriaReport_net) September 23, 2014
Russia's Foreign Ministry said Moscow was "deeply concerned" by the incident, which "exacerbates an already tense situation."
"We are calling for all countries in the region and beyond to show maximum restraint," the Foreign Ministry said in a statement. It added that now it is crucial to not open a new "front" of confrontation, but to unite the efforts of all interested parties to combat that threat.
In August, when a drone from Syria intruded into Israeli airspace, the Israeli Air Force shot it down with a Patriot surface-to-air missile.
"The IDF will not tolerate a breach of the State of Israel's sovereignty," the army said.
The area of Quneitra has become a major battlefield of the Syrian conflict in recent weeks, where fighting between the Syrian Army and the Al-Nusra Front militants linked to al-Qaida is raging.
On Monday, the US-led coalition launched airstrikes against Islamic State militants in Syria. The anti-ISIS coalition is using various military aircraft to pound the IS militants: F-16 and F-18 fighter jets, Rockwell B-1 strategic bombers, MQ-1 Predator drones and Tomahawk long-range cruise missiles.
You can share this story on social media: