Freedom House chief says Obama's refusal to give lethal aid to Kiev is a mistake
Published time: 22 Sep, 2014 19:13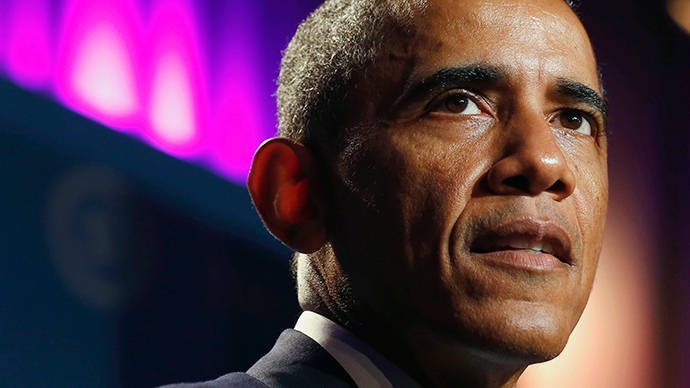 The US should give lethal assistance to Ukraine, the head of democracy watchdog Freedom House has said, describing President Barack Obama's refusal to supply such aid to the country's military – despite Kiev's pleas – a mistake.
There is "no doubt" the US president will follow through with his decision not to supply lethal assistance to Ukraine, said David Kramer, former assistant secretary of state and president of Freedom House – an independent watchdog dedicated to the expansion of freedom around the world.
Kramer visited Kiev on Monday, delivering a speech on the conflict at the Ukraine Crisis Media Center.
"The US should provide lethal assistance to Ukraine," he said, as quoted by the media center. Kramer also criticized Obama's refusal to do so, calling it a "mistake."
David Kramer, ex Assistant to the Secretary of State: US military assistance to #Ukraine has important psychological effect

— uacrisis (@uacrisis) September 22, 2014
David Kramer, Freedom House president now @uacrisis speaks of corruption as a key threat to freedoms in Ukraine pic.twitter.com/EXnwjhtMOg

— uacrisis (@uacrisis) September 22, 2014
He expressed hope that the support of Kiev's request by the US Congress can persuade the White House to change its position.
Obama has declined to supply Ukraine with "lethal aide," despite Ukrainian President Petro Poroshenko's plea for more military equipment, during a White House meeting between the two leaders on Thursday. The US president stated that only non-lethal assistance will be supplied to Kiev, and pledged $53 million in fresh aid.

During interviews on US television channels following the meeting with Obama, Poroshenko said that defense equipment provided by the US and other states "will increase the effectiveness of our weapons and help modernize them."
On Sunday, Poroshenko stated that the Ukrainian army has suffered heavy losses, with up to 65 percent of hardware lost or destroyed in military operations in the east of the country.
Despite Obama's reluctance, the US Senate last week introduced a bill authorizing the Obama administration to supply Kiev with $350 million worth of sophisticated weapons technology in the 2015 fiscal year.


Meanwhile, the ceasefire adopted by Kiev and the self-proclaimed People's Republics of Donetsk and Lugansk in Minsk earlier this month is still in place. Under the memorandum hammered out at the talks, both sides of the conflict agreed to halt all fighting in eastern Ukraine.

The agreement outlined a buffer zone of 30 km which is to be free from heavy weapons, and banned all military aircraft from flying over territory controlled by the eastern militia.
READ MORE: War over? Both sides in Ukraine conflict sign treaty banning military action
The Minsk memorandum was aimed at establishing a more lasting ceasefire. The Organization for Security and Co-operation in Europe (OSCE) has been tasked with making sure both sides adhere to the ceasefire conditions.

Russia's OSCE envoy, Andrey Kelin, told Itar-Tass in an interview earlier in September that a "temporary cessation of hostilities will be of no use" in resolving the conflict.

"[The] truce concluded for several days will merely let the warring parties regroup themselves and go on fighting, the way it happened many times in the past. Such a pause is unnecessary. There should be a substantive, full-fledged ceasefire," Kelin said.