Emergency lockdown in Sierra Leone: 6mn confined to homes in bid to contain Ebola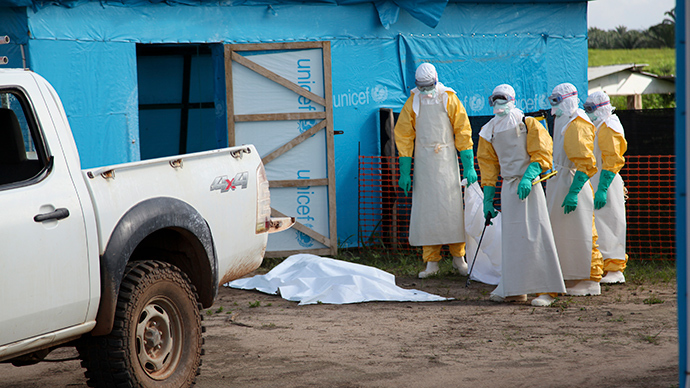 All Sierra Leone's six-million population have been confined to their homes. The three-day shutdown is a desperate bid to fight the outbreak, as US health officials warn the disease could spread to over half a million people.
"Today the life of every one is at stake, but we will get over this difficulty if all do what we have been asked to do," President Ernest Bai Koroma said in a national address on Thursday, a day before the shutdown was due to come into force.
People were in a hurry ahead of the edict to buy food. Shopkeepers were distraught at the prospect of losing three days' worth of income, given that much of the country's population, including the capital Freetown, live on as little as $2 a day or less. Each day is a struggle.
"If we do not sell here we cannot eat," one vegetable vendor told the AP. "We do not know how we will survive during the three-day shutdown."
READ MORE: Ebola worst-case scenario: Over half a million people infected
The shutdown has left only essential security and medical personnel, as well as volunteers, patrolling the streets, making door-to-door visits to search for disease-stricken civilians who may be hiding.
Thousands have been reported to be evading the lockdown, bypassing the border health controls, reported Euronews. Health officials told the channel that people were breaking through the bush in waves, fearing they could be taken away if discovered to be carrying the virus.
The government is in the process of identifying sick patients who are unable or reluctant to seek medical care. As part of this emergency awareness campaign, 1.5 million bars of soap will be handed out, along with information on how to prevent infection.
By scanning homes the government hopes to identify hundreds more victims, who are afraid to seek treatment because they fear overcrowded hospitals and disease centers. Many who tried have actually been turned away.
The government is setting up special screening and treatment centers for after the shutdown to deal with the expected influx of patients.
The situation gripping Sierra Leone is reflected in the global panic that erupted, but also in the willingness of people to come together and organize the fight against the epidemic.
All 365 of Sierra Leone's Ebola-related deaths pinned on one healer
A record 130 countries have backed a historic UN Security Council resolution that declared the African epidemic to be a "threat to international peace and security", calling on the world to supply more aid workers and health professionals, not to mention supplies to plague-stricken Sierra Leone, Liberia, and Guinea. The resolution also called on participants not to isolate those countries.
This is the second time in history the UNSC has addressed a health emergency – the first was during the original AIDS epidemic.
"This is likely the greatest peacetime challenge that the United Nations and its agencies have ever faced," said Dr. Margaret Chan, the WHO chief.
"None of us experienced in containing outbreaks has ever seen, in our lifetimes, an emergency on this scale, with this degree of suffering, and with this magnitude of cascading consequences," she added.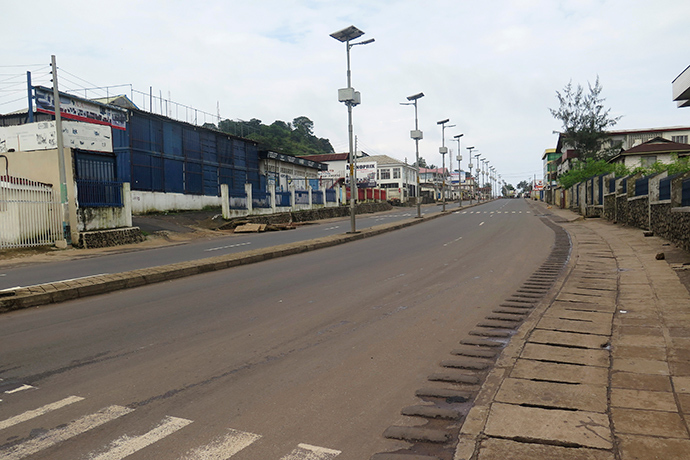 UN chief Ban Ki-moon is calling for a 20-fold increase in funds to target the disease, bringing the budget up to $1 billion.
Aside from the horror of the epidemic, other problems inevitable arise in the fear-stricken communities. The apprehension experienced in the face of these awareness campaigns and emergency measures is causing much distrust among the public. It has already led to disease center break-ins, the abducting of relatives – which in itself is a threat to containment – and, most recently, to gruesome murders.
In Guinea, the bodies of four local aid workers and three journalists were found in a ditch. They had been on a mission to educate the community. They were abducted by armed villagers, beaten or stabbed to death, and then dumped.
As of Sunday, there were 5,335 probable, confirmed and suspected cases of Ebola across Guinea, Liberia, Sierra Leone, Nigeria and Senegal. Of those, 2,622 people have died, the World Health Organization (WHO) announced on Thursday.
The US Centers for Disease Control and Prevention's report, scheduled to be released next week, will estimate how many people the disease will infect by the end of January, assuming no additional aid or intervention by governments and relief agencies occurs.
The current projection of 550,000 cases is currently being reviewed by the researchers and may change.
You can share this story on social media: