'Tell him to catch a bus': Angry passengers throw ex-Pakistani minister out of plane after 2-hour wait (VIDEO)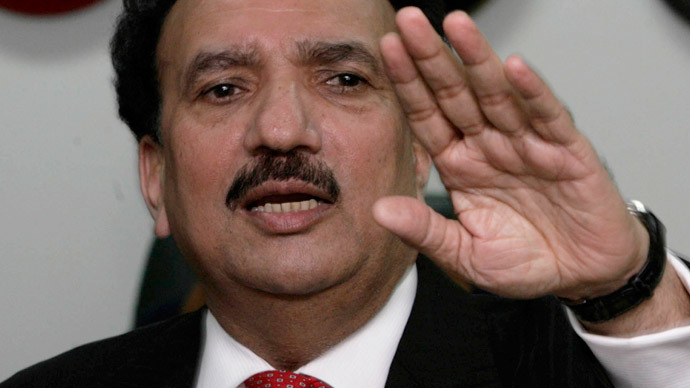 The ex-Pakistani interior minister was prevented from boarding a plane by furious passengers after a two-hour flight delay. The video, which has gone viral, shows how they accuse the politician of holding the plane up.
Flight PK-370 was scheduled to take off from Karachi's Jinnah International Airport for Islamabad at 19:00 local time (14:00 GMT) on Monday.
However, about 220 passengers were kept waiting for two hours. They vented their rage at Rehman Malik, former interior minister of Pakistan and Ramesh Kumar, Pakistan Muslim League-N (PML-N) MNA, who were late for the flight.
The video on YouTube shows that the two leaders were booed and barred from boarding the flight. The passengers accused them of holding the plane up; they were later joined by the crew members.
"Malik sahab, you are not a minister any more. And even if you are, we don't care...," shouted the passengers.
When the ex-interior minister approached along the jet bridge, people were heard saying, "Malik sahab, sorry. You should go back. You should apologize to these passengers."
"Tell him to catch a bus," shouted one more passenger. "Is he god?" said another.
"You should be ashamed of yourself... 250 passengers have suffered because of you. It is your fault, sir," added other passengers.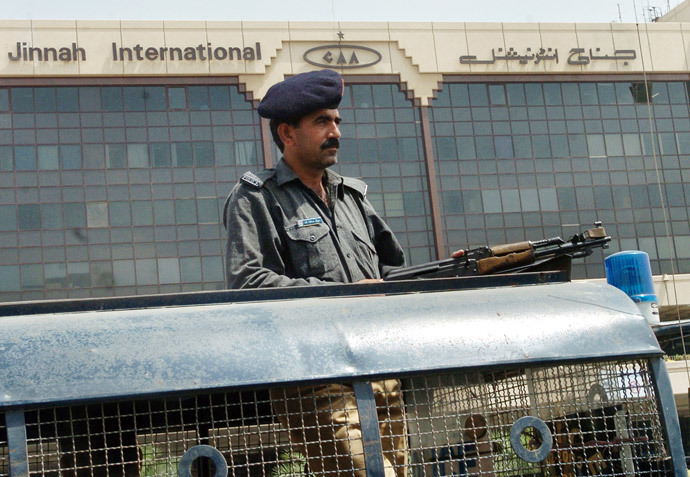 People were heard grumbling "So-called VIPs" and "My foot VIPs."
"Close the gates and fly this plane to Islamabad. This should be recorded, Rehman Malik has been offloaded. We threw him out!" commented one more passenger.
After the two politicians were barred from the plane, the passengers started applauding.
"Sir, before you go back, you should apologize to these passengers!" one flight member said to Malik.
In the meantime, internet users praised the actions of the passengers.
"Proud to see people of Pakistan truly standing up against VIP status quo," wrote user Awab Alvi.
"Congratulations [to] Karachites [for] bringing first ever true revolution in Pakistan in PIA flight yesterday at Karachi airport," wrote another.
Malik served as the country's interior minister from 2008 up to 2013.
After the video went viral on the internet, Malik took to Twitter to clarify the situation.
"I have a right to defend myself against the allegation. PK370 /1900hr was delayed [because of] tech reasons [and] was expected to leave at 2030. So no delay for me," he wrote on Twitter.
I hv right to defend myself agst the allegation.PK370 /1900hr was delayed b/c tech reasons/was expected to leave at 2030. So no delay for me

— Rehman Malik (@SenRehmanMalik) September 16, 2014
Why am I being linked with PMLN minister.i saw the noise with the minister and decided not to go on the flight as One PTI worker was yelling

— Rehman Malik (@SenRehmanMalik) September 16, 2014
am now leaving by pk 300 and now in the plane.50 minutes delay has been announced who shd be blamed for this delay.PIA or me?Obviously PIA

— Rehman Malik (@SenRehmanMalik) September 16, 2014
Mashood Tajwar, spokesman for PIA (Pakistan International Airlines) told the Dawn, Pakistan's English-language newspaper, that the flight delay was due to a technical glitch and was not Malik's fault.
"PIA does not promote VIP culture… but this flight was delayed an hour and 30 minutes due to a technical reason," Tajwar said. "The delay had been conveyed to passengers via SMS. Some passengers who had given the contact details of their travel agent may not have been conveyed the message by their agents."
I am a PPP workers and hence I myself hateVIP culture but I do like to follow my pak- culture which is the best in the world

— Rehman Malik (@SenRehmanMalik) September 17, 2014
Soon after the incident, PIA suspended the shift manager, Nadeem Abro, and terminal manager, Shehzad Ali, of flight PK- 370 for irresponsibility and delaying the arrival of Malik and Kumar, a private news channel reported.
The suspension was ordered by Shujaat Azeem, the prime minister's adviser, who said that VIP culture should not be tolerated in governmental bodies.
The revolution has really begun !! Passengers threw out Rehman Malik for keeping the flight waiting for 2 hours :)) http://t.co/29ra4Xz6gV

— Zaid Hamid (@ZaidZamanHamid) September 15, 2014
Met a high level politician who is planning on reaching airport early for fear he may be thrown out if he is late Punctuality Tabdelli !!

— Awab Alvi (@DrAwab) September 16, 2014
Proud to see ppl of Pakistan truly awaken & standing up against VIP status quo @SenRehmanMalik ejected from PIA flight for being 2 hrs late

— Awab Alvi (@DrAwab) September 16, 2014
Congratulations #Karachites 4 bringing first ever true revolution in #Pakistan in PIA flight yesterday at Karachi airport #MakeNewProvinces

— Mohammad Anwar (@MAnwarMQM) September 16, 2014
Respect the chaps who protested the delayed plane - took on powerful people unlike disobedience encouraged against toll booth walls & ilk

— Fasi Zaka (@fasi_zaka) September 16, 2014
The GForce of Rehman Malik's dramatic uturn on sensing a bad crowd puts NASA to shame

— Fasi Zaka (@fasi_zaka) September 16, 2014