Israel nixes drone deal with Ukraine to not anger Russia – report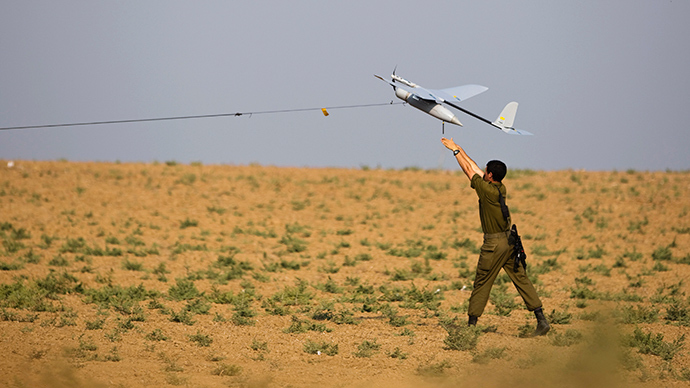 Israel's Foreign Ministry blocked the proposed sale of military hardware to Ukraine to avoid a strain in relations with Russia – even after the country's Defense Ministry approved the transaction – Israeli media reported. The deal with Kiev included UAVs.
Ukraine sent a delegation into Israel in order to arrange for a purchase of weapons and hardware – which reportedly included Unmanned Aerial Vehicles, or drones – to be used against self-defense forces, Israel's Channel Two reported.
The report revealed that the country's Defense Ministry approved the sale of drones manufactured by Aeronautics.
Later, however, the decision was blocked by the Foreign Ministry out of fear of angering Russia and provoking it to sell more weapons to Syria and Iran, which Israel views as direct threats.
The report does not provide any details as to when the visit took place or when the sale was blocked.
Meanwhile, Ukraine has been in the midst of a fragile ceasefire, one which was put to a serious test during the weekend, when the city of Donetsk witnessed some heavy shelling.
A crew from RT's video agency Ruptly working on the outskirts of Donetsk witnessed how a family was forced to run for shelter to escape shelling.
Also, the OSCE's Special Monitoring Mission to Ukraine (SMM) came under fire while on a mission in the eastern part of the country on Monday.
"The patrol vehicles were damaged by artillery or mortar fire," the SMM reported, adding that "prior to the departure of the patrol, the routes were agreed upon by both parties both in person and over the phone."
SMM Chief Monitor Ambassador Ertugrul Apakan said that the teams were operating in Donetsk and Lugansk and had reported a series of cease-fire breaches.
Ukrainian troops and the anti-government forces have blamed each other for the ceasefire violations.
At the same time, German Chancellor Angela Merkel said she was unaware of any NATO countries sending arms to Ukraine, according to her spokesman. The statement came as a response to Ukrainian Defense Minister Valery Geletey, who said that alliance members were already providing munitions.
"The question of whether weapons are being delivered should be directed to the countries that supposedly or allegedly are doing it. We are not one of those countries and I know of no such thing," said Merkel's spokesman, Steffen Seibert, according to Reuters.
Geletey said Sunday that NATO members were supplying his country with weapons. He said this was agreed upon following the alliance's summit in Wales earlier in the month. NATO officials had previously stated they would not send "lethal assistance" to Ukraine, which is not a member of the organization.
You can share this story on social media: