Crimean combat dolphins 'transferred to Russian military control'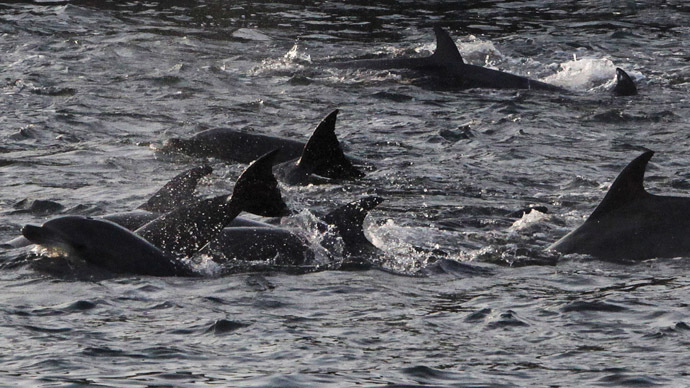 The Sevastopol State Aquarium in the Crimea, where the unique combat dolphins and seals are training, has been fully reassigned to the Russian Defense Ministry, Sergey Menyailo, acting governor of the city of Sevastopol, said.
The Crimean military dolphins belonged to Ukraine since the fall of the USSR up to March 2014, when the peninsula voted in a referendum to join the Russian Federation.

"The jurisdiction over this facility [Sevastopol State Oceanarium] has been fully transferred to the Russian Defense Ministry," Menyailo said in an interview with RIA-Novosti news agency.

The acting governor added that four dolphins from the oceanarium have been relocated to the Crimean dolphin therapy centers to help treat such serious children's diseases as "cerebral palsy, mental disorders and psychological stress."

According to RIA-Novosti, 13 bottlenose dolphins are currently involved in the military program at the base.

The combat training of the sea mammals at the Crimean peninsula began in the 1960s, but was halted for over two decades under Ukrainian rule and only resumed in 2012.

The Soviet Navy used dolphins and seals to patrol the area, rescue lost naval swimmers or locate underwater mines. Some of the animals were even capable to seek and destroy missions against enemy submarines, using kamikaze methods.

Russia's Sevastopol and the US city of San Diego host the world's only military dolphin training facilities.

Menyailo also claimed that the Russian Defense Ministry has already deployed Su-30 fighter jets at Belbek air base near Sevastopol.

The acting governor didn't specify the number of Su-30 jets, but an unnamed official told RIA-Novosti that up to 20 warplanes have arrived.

According to the official, the Defense Ministry plans to deploy military aircraft at four airfields in the Crimea, including Belbek.
However, there's been no official confirmation of this information from the Defense Ministry.
The Russian authorities plan to use Belbek as a joint airfield for both military and civilian purposes, including international flights.

Menyailo reminded that the airfield network in the Crimea was highly developed in the Soviet era, but "during the period of time spent as a part of Ukraine, it was abandoned."

Crimea cut ties with Ukraine and reunited with Russia on March 16 as its Russian-speaking population refused to recognize the new coup-imposed authorities in Kiev.

The move was preceded by a referendum, in which the reunification with Moscow was backed by over 96 percent of voters.
You can share this story on social media: