​Iraqi parliament approves new PM, govt
Iraq has approved a new government headed by Shiite Haider Abadi, with Sunni and Kurdish deputy prime ministers.
Abadi won parliament's vote of confidence with 177 MPs backing him, Al Arabiya reported. The victory followed Abadi's pledge to resolve ongoing disputes with the country's autonomous Kurdish region. The Kurdish bloc was initially reluctant to join the national government, but agreed to participate at the last minute.
The new appointments include Ibrahim Jafaari as foreign minister. Jafaari served as prime minister in the Iraqi transitional government from 2005-06.
Abadi said he will have to leave some minister seats empty for the moment, including the posts of interior and defense ministers. He pledged to appoint the ministers within a week.
Vice president posts were given to previous Shiite Prime Minister Nuri al-Maliki, Sunni politician and former parliament speaker Usama al-Nujaifi, and Iyad Allawi, a secular Shiite and former premier. Adel Abdel Mehdi from the Islamic Supreme Council of Iraq was appointed oil minister.
The partial approval of an inclusive Iraqi government comes after weeks of deadlock following the forced resignation of former PM Nouri al-Maliki in August. Maliki, who had ruled Iraq since 2006, stepped down amid sectarian tensions when Sunni Arab and Kurdish communities accused the government of following pro-Shiite sectarian policies which alienated the Sunni minority.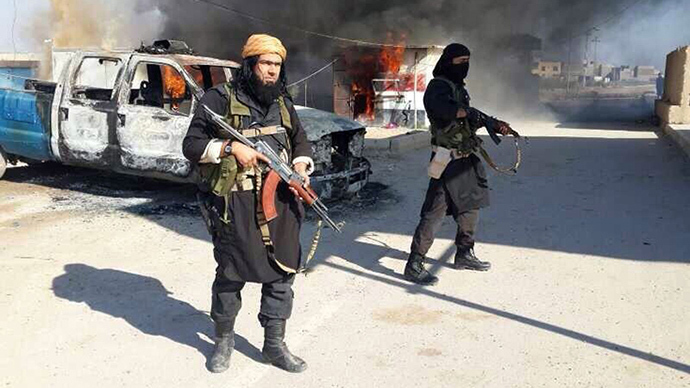 Washington has been urging Iraq to form an inclusive government with Sunni politicians, insisting it is a condition for further military support against Islamic State (IS) militants who have seized large parts of Iraq.
IS jihadists have declared the captured territories – from Iraq's Diyala province to Syria's Aleppo – a new Islamic caliphate. The militant group, which is notorious for its brutal violence, separated from Al-Qaeda in early 2014. It has seized major areas of western and northern Iraq in recent months, committing mass murders of opposing Shia Muslims in the region. Leila Zerrougui, the UN secretary-general's special representative for children and armed conflict, told the UN Security Council that IS has killed or maimed some 700 children in Iraq since the beginning of the year.
Washington has expressed hope for the new government "to unite all of Iraq's diverse communities for a strong Iraq, a united Iraq and give those communities a chance to build a future that all Iraqis desire," US Secretary of State John Kerry said, calling the formation "a major milestone."
Meanwhile, US State Department spokeswoman Jen Psaki announced that more than 40 countries have formed a coalition against IS.
"What the goal of the coalition is to coordinate on the threat that ISIL poses," Psaki said, adding that the allies would have differing roles in fighting extremism. "There are obviously a range of capabilities or capacities that different countries have."