Stealth wind turbines to become operational in France in 2015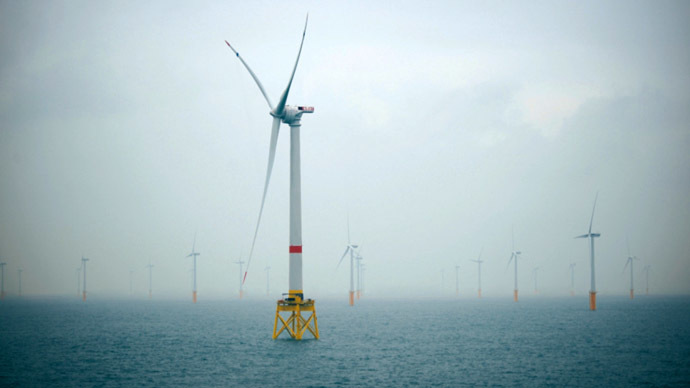 A French company has begun producing stealth wind turbines that mask low-altitude airborne objects and therefore do not interfere with radars. Some elements of the renewable power generators have been borrowed from modern fighter jets.
France's EDF Energies Nouvelles, a 'green energy' branch of the state-controlled EDF Group, has announced the production of the towers, which minimize interference with civil and military radars operating nearby, Reuters reports.
The new blades for the wind towers are being made by Denmark's Vestas, the world leader in land-based wind turbine production.
According to an EDF EN spokeswoman, the "world premiere for this new technology" will take place at the Ensemble Eolien Catalan wind farm near Perpignan next spring. The site will gradually become operational throughout 2015. EDF EN tested the new technology on two turbines in a wind park in Auvergne, in central France.
Once it reaches the designed capacity of 96 megawatts, Ensemble Eolien Catalan will become the largest wind farm in France.
After a couple of years, Vestas plans to put the product on the international market, with companies from the US and UK becoming the first possible clients.
A large number of wind farm projects worldwide have been blocked or denied operations because of potential radar interference, potentially 'hiding' low-altitude aerial objects behind the rotating blades of the rotor.
In France alone, close to 6,000 megawatts of such projects have been blocked because of possible interference with military or weather radars, according to the French Windfarm Federation (FEE).
"There is a conflict here; there are two kinds of users for the same space. For us, it is a real problem," FEE director Sonia Lioret told Reuters.
The French military demands obligatory consultations with any company planning to install wind farms within a 30 km range of military radar stations. There is little wonder about the military's resistance to wind towers, as the newest turbines can be up to 150 meters high.
According to Nicholas Wolff, head of the French unit of Vestas, the company has actually borrowed some of the turbines' elements from military aircraft.
"We have used surface treatment technologies, including those derived from military applications," he said.
Warplanes such as Lockheed Martin's F-117 Nighthawk use radar-absorbing coatings and a combination of specially designed shapes and surfaces to decrease their radar cross section – a measure of the extent to which they are detectable by radar.