US child homicide rate leads West - UNICEF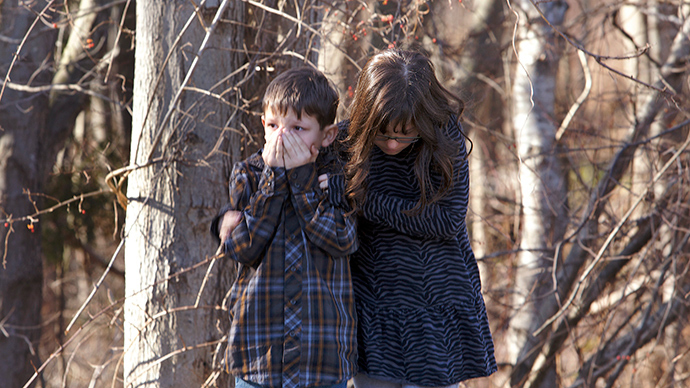 The US leads Western nations in child homicide rates, while millions of children around the world are threatened with physical, sexual and emotional abuse, including murder, rape and bullying, a new UNICEF report revealed.
The report, entitled 'Hidden in Plain Sight: A Statistical Analysis of Violence against Children', demonstrated that death by homicide is every much a threat for young people as it is for adults.

In 2012 alone, murders claimed the lives of about 95,000 children and adolescents aged 0 to 19 – almost one in five of all homicide victims that year.

Although most of the young homicide victims (around 85,000 or 90 percent) came from low- and middle-income countries, such as in Latin America and the Caribbean, the United States took the top spot among 34 Western democracies, with an average of four adolescent homicides per 100,000 people in 2012. (Incidentally, this is the same child homicide rate recorded for Iraq, which is suffering in the aftermath of the 2003 US military invasion).

The number one cause of death among males between the ages of 10 and 19 is homicide in several Central and South American countries including Panama, Venezuela, El Salvador, Brazil, and Guatemala, according to the report.
Every kid has the right to grow up in a safe & loving environment. #ENDviolence@UNICEF@unicefaustralia@OurWatchAuspic.twitter.com/MqrKMkBXKA

— Kate Ashmor (@KateAshmor) September 4, 2014
Meanwhile, Nigeria has the largest number of children's deaths, totaling 13,000 in 2012. Brazil was second with 11,000 deaths.

The United States ranked seventh in the world (behind Nigeria, Brazil, India, Congo, Mexico and Ethiopia) in global homicide figures among ages 0 to 19, with over 3,000 youth homicides recorded in 2012.

"If there is one common aspect of human society right now, it is the fact that tremendous violence is committed against children," Susan Bissell, chief of the child protection unit at UNICEF said in a press release.
Around 3 in 10 adults believe physical punishment is necessary to properly raise or educate children http://t.co/Sr8V3Ncuuh#ENDviolence

— UNICEF (@UNICEF) September 5, 2014
The problem of children and adolescents joining gangs was also factored in as a reason for high violence and homicide rates among youth. In the United States, for example, 273,875 children (under age 18) were believed to be involved in some 29,900 gangs in 2011.

The UNICEF report, compiled from 190 countries, also revealed that two-thirds of children worldwide between the ages of 2 and 14, which is almost 1 billion, are physically punished by their parents or caregivers, while more than one in three students between the ages of 13 and 15 worldwide face regular bullying in school.

"We're not talking about a little smack on the bottom," Bissell told AP. "We're talking about a blunt instrument, and repeated."

The violence "cuts across boundaries of age, geography, religion, ethnicity and income brackets," UNICEF Executive Director Anthony Lake said in a statement. "It occurs in places where children should be safe, their homes, schools and communities. Increasingly, it happens over the internet, and it's perpetrated by family members and teachers, neighbors and strangers and other children."

The report also devoted a section to sexual violence, revealing that around 120 million girls, or one in 10 worldwide, have been forced into a sexual relationship.

Data from 40 low- and middle-income countries indicates that exposure to certain forms of sexual violence is not uncommon in the experience of many girls: The number of females aged 15 to 19 who have ever experienced some sort of unwanted sexual experience in their lifetime varies widely, ranging from no reported experiences among adolescent girls in Kyrgyzstan to 22 percent among girls in Cameroon.
1 in 10 girls worldwide has been forced into a sexual act. Let's bring their abuse out of the shadows. #ENDviolencepic.twitter.com/brQtZsfUQD

— UNICEF Australia (@unicefaustralia) September 5, 2014
Among adolescent girls who have been subjected to sexual violence, the most likely perpetrator was an intimate partner or a relative, the report stated.

However, it is not only low-income countries that are susceptible to such acts of violence. The UNICEF report pointed to the Optimus Study carried out in Switzerland in 2009, which collected information from adolescent boys and girls (aged 15 to 17) on their experiences.

In terms of sexual victimization a much higher proportion of adolescent girls (22 percent) said they experienced at least one incident in their lifetime than adolescent boys (8 percent). The report mentioned online interactions as a source of the victimization among youth.

The conclusion of the UNICEF report was that the footprint left by violence against children has increased in the past decade.

"Violence begets violence. We know a child experiencing abuse is more likely to see violence as normal, even acceptable and more likely to perpetuate violence against his or her own children in the future," Lake said.

Some cultures accept violence against children, others condone it by quietly ignoring the abuse, UNICEF stated.
You can share this story on social media: