'Cement Bucket Challenge': Luxury Bentley trashed under tons of concrete
It's now proved by bitter experience: if you need to park your Bentley, then avoid constructions sites. A Russian celeb did not, and his luxury car got buried under tons of concrete.
Artur Shachnev, the CEO of a music production company, parked his Bentley too close to buildings under construction in central Moscow. He was then called back by his security staff, who said that concrete had been dumped on his car.
"It happened at 7 pm on September 2. My security man called me and said that cement was splashed on my car and asked me to come down. So I did, to take a look at this unique event (it's not often that security reports such odd moments), and I found this," Shachnev told RT.
The accident was blamed on workers' negligence. They were lifting a huge bucket with cement when it accidently hit the wall and opened, sending the liquid down on cars parked in the street below, from a height of 15 meters.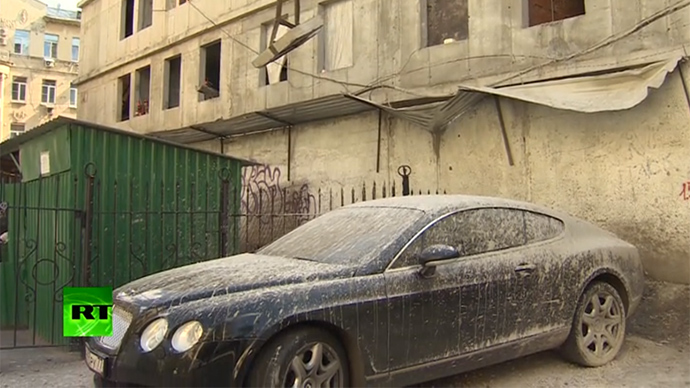 "According to the workers, the seven-ton container had no more than one ton of concrete. Some of them say - 300 liters. But experts who inspected the scene estimated it was way more than that," Shachnev said.
By the time Shachnev arrived, his Bentley was covered in concrete.
"The liquid mixture coated the entire car and made it a bullet-proof capsule," the producer said as he described the carnage.
The Bentley's body was very seriously damaged by small crushed stones in the liquid. The concrete leaked into the wheel system, so the car can't run now.
"But you can start the engine, and music plays and lights can be turned on," Shachnev said.
Shachnev later posted pictures of the damaged car on Facebook, showing the vehicle — nicknamed Bantik, or "little bow".
"Today my close friend left me, died suddenly under a ton of cement. Rest in peace, my sweet Bantik, under the cement!" he posted.
The producer says when he saw his car he first laughed, but then got really worried about a unique costume that was inside the trunk, which his team need for the premier of a new show.
The company promised to compensate him for all losses. But the car can't be repaired or cleaned.
"It's impossible to clean the concrete off the entire body of the car," he said. "It needs to be changed. A new body would cost 8 million rubles, twice the price of my car," he said.
Shachnev now jokes that the accident was his nomination for the "Cement Bucket Challenge," referring to the online Ice Bucket Challenge campaign that inspired thousands of people worldwide to douse themselves with buckets of freezing-cold water in the name of charity.
In his case, Shachnev says he is going to present his not-moving car to one of the contemporary arts exhibits as a monument to "Russia's idiocy."
You can share this story on social media: