'Royal family dominates courts': Bahrain arrests high-profile human rights defender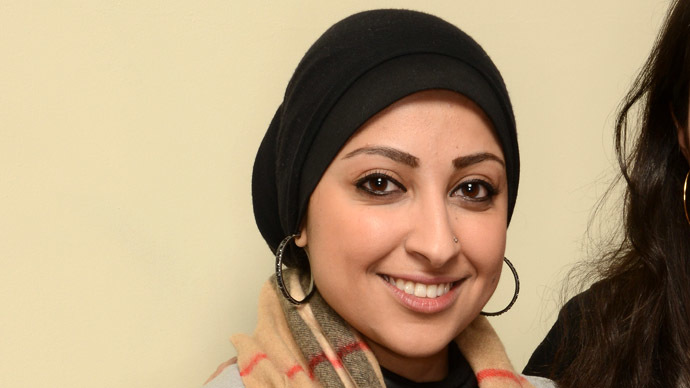 A prominent human rights activist Maryam Al-Khawaja was arrested shortly after arriving in Bahrain to check on her father, who is hunger striking in prison along with thousands of sentenced activists, a key opposition figure Nabeel Rajab told RT.
Maryam al-Khawaja, the co-director of the Gulf Center for Human Rights, has been detained upon arriving at the airport of Bahrain and was taken into custody on Saturday. She came to her native country to visit her father Abdulhadi Abdulla Hubail al-Khawaja, who was detained back in 2011 and is now on hunger strike.
The public prosecution denied Maryam the right to meet with her lawyer before interrogation and during the questioning wasn't allowed to talk to her about her legal rights.
As her lawyer I have filed a legal complaint to the public prosecution for preventin me from talking to my client before the interrogation.

— Mohammed Al Jishi (@Mohamed_AlJishi) August 30, 2014
She is reportedly charged with insulting the king, assaulting a police officer at the airport, and engaging in an illegal human rights campaign. The investigation was extended for seven days, according to her Twitter feed.
The president of the Bahraini Center for Human Rights, Nabeel Rajab, told RT that the Bahraini Royal family is using the judiciary system, which doesn't meet any international standard, as a "tool to attack human rights activists."
RT:She's not been officially charged yet I gather, what are the prospects of her being freed and why is she being held then?
Nabeel Rajab: She went to Bahrain to see her father. As you know she is a Bahraini with Danish nationality and she was not allowed to get in. This was the second time she tried to go to Bahrain and when she insisted she wanted to enter her country and to see her father she was detained and taken into custody. And now she is charged with attacking a policeman or police woman and was stopped and got seven days interrogation and then she will be taken before a court.
Unfortunately this is the case for all human rights defenders in Bahrain. Abdulhadi Al-Khawaja's health condition is very bad, more human rights defenders tomorrow are going on hunger strike. A lot of people were sentenced, human right's defenders, on a daily basis by the court which is dominated by the ruling family. Today you have one photographer, Mr. Humaidan, who was sentenced to ten years. There were two women activists sentenced to five years or more. As I am talking to you the court has been issuing sentences against a lot of human rights defenders.
RT:Are you doubting the validity of those charges, the reason why she's being held there?
NR: You are in a country where the judiciary is not independent and has had a lot of criticism from the international community. You will expect to face a judge who is a member of the ruling family. So you are in a country that does not respect human rights. The judiciary system does not meet international standards. [There has been] a lot of criticism by international human rights groups and by her friends like the United States, but they don't care so far. They were taking a lot of human rights defenders to count and using the court and judicial system as a tool to attack human rights activists, to attack photographers, to attack journalists and activists in social media. So we are in a most repressive regime.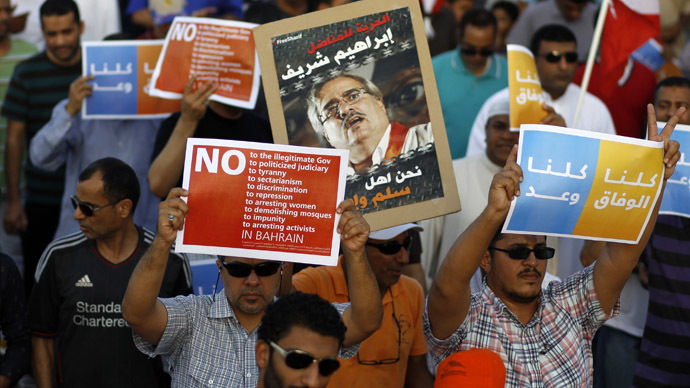 Now we are worried about the life of Abdulhadi Al-Khawaja who is on his eighth day of hunger strike. We are worried about this woman taken into custody. Many woman and men were tortured to death. As I'm talking to you a lot of people were being tortured by the police in Bahrain, which has a bad reputation for human rights.
RT:Are you worried that if you yourself went back to Bahrain you'd be in trouble?
NR: I don't know. I mean I was in trouble. I was just released two months ago. I spent my last two years in jail because of tweeting, asking people to take part in a peaceful protest to release my friend Abdulhadi Al-Khawaja, who is on hunger strike today. And for that reason I spent two years in jail.
And many other hundreds of people, thousands of people are in jail today just because they are practicing their right of assembly, right in gathering, right in writing and criticizing. We have at least 4,000 people today in jail. We have at least 50,000 people who have been in and out of jail in the past three years.
So we are talking not less than seven percent of my whole population was in jail for the past three years, just for either criticizing the government or criticizing the Prime Minster who have been there for the past forty years, or criticizing the King or criticizing the ruling family. The biggest percentage of people you've ever seen in any country that has spent time in jail is Bahrain. The country with the most political prisoners is Bahrain.
RT:A final quick thought about Mariam's dad, we mentioned him just now, your friend in jail there. He's in the middle of a hunger strike. How far do you think he will carry it, and how exactly do you think he is being treated?
NR: It's very serious, and I know how serious Abdulhadi Al-Khawaja is. He's a very committed guy, very respected guy, at the regional level, at the international level as a human rights defender. He is a well-known respected human rights fighter and I know he is very serious. In a normal condition, he should not stay more than 3-4 weeks without food, so that is why we are very worried about him. We think he, and all the human rights defenders should be released as soon as possible.