Military bands kick off Spasskaya Tower festival on Red Square (VIDEO, PHOTOS)
The best military orchestras from around the world have invaded Russia's iconic Red Square in the heart of Moscow to take part in Spasskaya Tower international military music festival. This year the theme of the annual show is the First World War.
The units of the State Honour Guards as hosts have welcomed the leading foreign military music bands in a breath taking spectacle – a combination of military, classical, folk, popular and rock music with phenomenal band parades in combination with a laser and pyrotechnical extravaganza.
"This year the festival is dedicated to Centenary anniversary of the start of the World War I. The organizers could not have circumvented this date," the director of the State Historical Museum Aleksey Levykin noted, saying that the viewers may look forward to seeing the oldest Turkish orchestra Mehter founded in the XIII century.
Red Square is hosting the festival from August 30th to September 7th. Over 50,000 people are expected to attend the week-long celebration with the main arena hosting over 7,000 viewers at a time.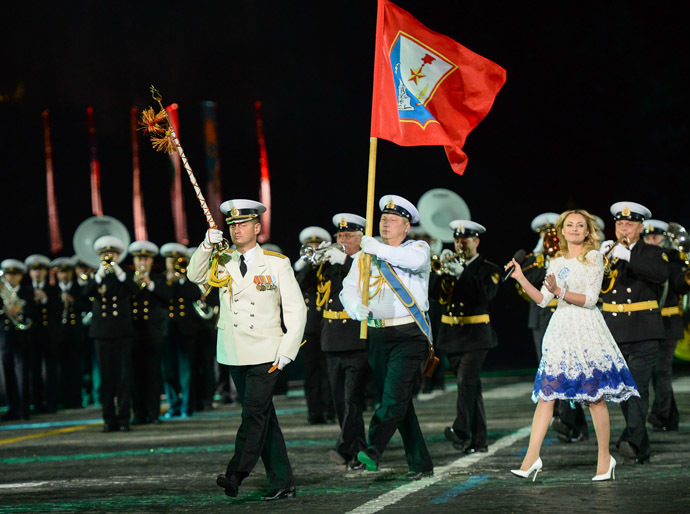 The spectators will have a chance to see more than 1,500 musicians and artists from all over the world dancing, performing acrobatic shows, martial arts and trick riding.
Orchestras from Armenia, Bulgaria, Greece, Ireland, Italy, Kazakhstan, China, Mexico, Russia, Switzerland and Turkey are taking part in the fifth annual festival.
Along with the band the participating countries are sending their artists to complete the musical magic. Popular French singer Mireille Mathieu is also expected to perform. The program starts at 11:00 am and lasts until late into the night.